Morrie Turner Thea "Soul Corner" cartoon - published Mother's Day, May 13, 2007 Morrie Turner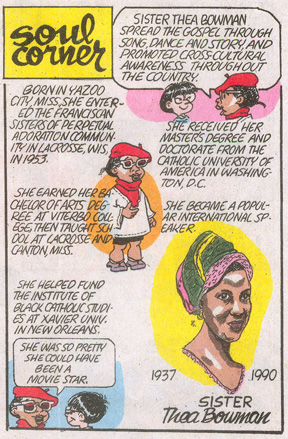 Cartoonist and Artistic Consultant
"Wee Pals," the name of the comic strip that "opened doors" for Morrie, has been syndicated for 30+ years and appears in 1110 newspapers internationally, including the Oakland Tribune.
Whether he is flying across the country to speak for an international computer firm, working with KGED in a feature which received an Emmy nomination, or appearing at school assemblies (his favorite), Turner is always in the spotlight.
Turner began drawing caricatures in the fifth grade. In high school, he expanded to creating cartoons. He joined the Army-Air Force following high school graduation, and while on guard duty, he drew cartoons. His work was noticed and he was hired by Stars and Stripes to draw a series, "Rail Head," based on his own war experiences.
Following the war, he created community affairs publications for the Oakland Police Department while free-lancing cartoons to national publications. Baker's Helper, a bakery industry publication, was the first to buy one of his cartoons for $5.00. Turner had had no formal art training and sought the advice and encouragement of other professional cartoonists. When he began questioning why there were no minorities in cartoons, his mentor, Charles Schultz of Peanuts fame, suggested he create one. In the early 1960s he created a series Dinky Fellas that evolved into Wee Pals, a world without prejudice celebrating ethnic differences. In 1965, the series became the first multi-ethnic cartoon syndicated in the United States. Wee Pals in over 100 newspapers worldwide.
On Sundays an additional panel is included called Soul Corner detailing the life of a famous person belonging to an ethnic minority.
Turner lives in West Sacramento, CA.