Living out the Gospel: FSPA Affiliate Fall Gathering 2019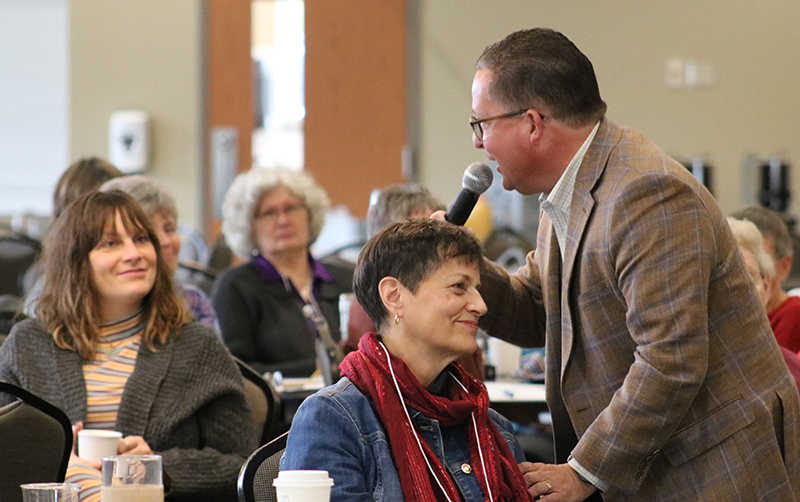 Theologian and speaker John McHugh
"We know that when we tap into this pulse of living, everything changes." This call to contemplation, to continuing A Revolution of Goodness and to carrying out the three provocative moments, was offered by FSPA Director of Affiliation Beth Allen at the 2019 Affiliation Fall Gathering, Oct. 19 at Mary, Mother of the Church in La Crosse, Wisconsin.
Affiliates and sisters in attendance experienced this challenge through the words of John McHugh, renowned theologian and speaker, with his offering "Guided by the Gospel of Jesus Christ." Throughout the day, John shared parables — both scriptural and personal — that embodied and affirmed Gospel living.
He began with stories of what he called scriptural assumptions, with Hebrews 1:1-2. "In times past, God spoke through our ancestors to the prophets; nowadays, through his son." John then told of a six-year-old boy who sobbed uncontrollably when, upon hearing the Palm Sunday Gospel for the first time, learned that Christ was crucified.
"'That was my friend,' the boy repeated, thrusting a finger in the air three times. He had come to such a deep relationship with Jesus through the Gospel. My hope is that somehow, in what we do today, that relationship will deepen for all of us."
John shared the Christmas story: Luke 2:7, Mary giving birth to Jesus and laying him in the manger because there was "no room in the inn." The accurate telling of this Gospel, he said, parallels what is "truly Franciscan." The manger was a "kataluma," a place of importance in ones' home. Jesus was given "the master bedroom," explained John. "This is a message of how we love God … humanity is so good that God became one of us. It's Franciscan theology."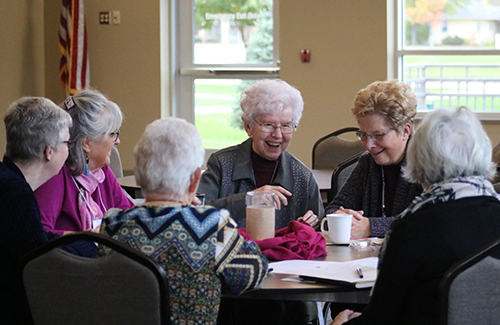 Sister and affiliate attendees of the 2019 Affiliate Fall Gathering
He later revisited Luke, chapter 24, with the tale of the disciples traveling the road to Emmaus. "One piece I like about this story is that Jesus reveals himself to all who experience risk," as he did to Mary and the disciples. "People encounter Jesus when they take risks." John likened such revelation in living emboldened with a story about Mike Sherman, the former head coach of the Green Bay Packers who once invited a homeless man to his hotel room, ordered him breakfast, offered him a ticket to stand on the sidelines at that day's game and called for a driver to take him there. John relayed the reaction that Mike receives when telling this story — "You don't know this guy! Were you worried?" — and the response he gives in return: "I'd be more afraid of myself if I passed a homeless person on the street and didn't do anything about it." He took a risk. "In the resurrection narrative, it's amazing how many times Jesus comes to those who take risks." The two stories align the Gospel of Luke with the Gospel lived out by FSPA: "The risk they take in ministry when they go where no one else goes, where we need to be. That's where we experience Jesus."
Perhaps the pivotal parallel John drew that day was one between two stories of sons who have fallen and their fathers running full force to pick them up. He shared one of his own: when he was eight years old, his father insistently took the training wheels off John's bike. Then he sat John on the seat, gave a big push and watched as the bike hit a tree stump head on. It was the only time, John shared, that he saw his father run. The second story was that of the prodigal son, whose father, upon seeing his son walking down the road toward home, ran to save him from a certain societal shunning.
"Scholars have said that this parable is par excellence for what Jesus wanted us to understand about God the father. If there is anything for you to take away today it is this: Know that in your darkest moment, when you are in the land of nothingness, God runs to you. God picks you up."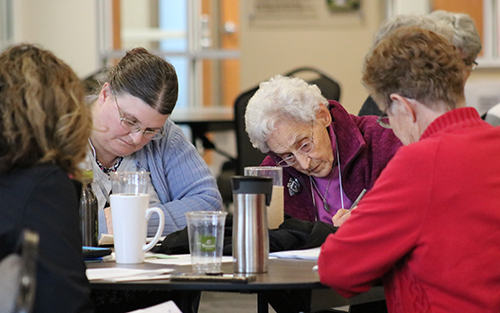 Sister and affiliate attendees of the 2019 Affiliate Fall Gathering

Fall gathering attendees were invited to reflect: "How is the Gospel at work in your life?"
Pat Kerrigan, affiliate:
The Gospels reveal that time and time again, Jesus "showed up." In my ordinary life, what does it mean for me to show up? I can challenge myself to be more deliberate in retirement by paying more attention to what is going on around me, to show up and be present for the needs of our society as well as those of family, friends and the stranger among us. Jesus says in Matthew 9:37, "The harvest is plentiful, but the workers are few." What better time is there to join this new "workforce" than now, when we are in the midst of the FSPA-fueled A Revolution of Goodness?
Margie Bleuer, affiliate:
Since the fall gathering, when I focus on a Gospel reading at the start of each day, I think of a mantra to carry me through. Where am I going? Is this opening my heart to others? Relax … listen … pray for this person to work this out in God's loving way. Do your best. Follow your heart. Lord, hold them close until they know Your will. I am calmer and my attention is focused on whomever I am dealing with at work, at home, or in the community. The Gospels work in me by opening my heart to feel so blessed knowing that God's love endures forever.
Sister Jean Moore:
The Gospel has always been the foundation upon which I try to live my life. The stories of Jesus' life, as well as the Parables of Jesus' teachings, are rich sources of ways to live the good life. Scripture uses metaphors, analogies and symbols to demonstrate the values of Jesus in everyday life. I try to apply them to my own life and think about what they teach me. I often ask, "Where is God in all of this?" I search for a response through the decisions and actions of my daily life.