Justice Network - The U.S.-Mexico border: an open wound
Adapted from "School of the Americas Watch" by Liz Deligio

"When we struggle for human rights, for freedom, for dignity, when we feel that it is a ministry of the church to concern itself for those who are hungry, for those who have no schools, for those who are deprived, we are not departing from God's promise ... The church knows it is saving the world when it undertakes to speak also of such things." – ­Archbishop Oscar Romero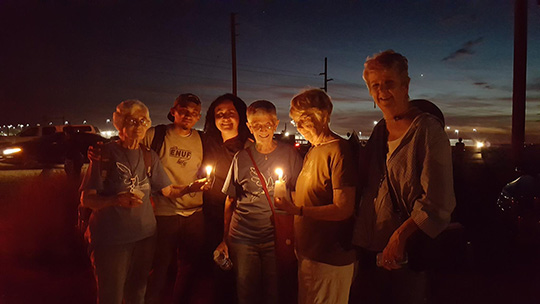 The annual School of the Americas Watch Convergence moved this fall from the gates of Fort Benning, Georgia, to the militarized U.S.-Mexico border. The Convergence at the Border took place from Oct. 7 to10, 2016, in Nogales, Arizona, and Sonora, Mexico. At the heart of the 2016 vigil and gathering was the increasing awareness of the militarization of the U.S.-Mexico border and Latin America, as well as the criminalization of migrants, asylum seekers, refugees and people of color. 8th Day Center for Justice has travelled to the vigil for over 20 years.

Beginning on Friday hundreds of migrants, students, members of religious communities, veterans and human rights activists gathered outside of the Eloy Detention Center in Arizona to call for the release of the incarcerated migrants, an end to profiteering of human suffering and justice for all.

Speakers addressed the connection between U.S. militarization in Latin America and forced migration to the United States, and described the horrors of living inside detention centers like private, for-profit Corrections Corporation of America-run Eloy.
"To those of you who don't vote, who don't change these laws, you are allowing children to die here inside places like Eloy," spoke Berta Avila, a woman who was detained while pregnant, denied medical care and who subsequently miscarried in detention.

On Saturday and Sunday in Nogales, (a town split literally down the middle with a border fence creating Nogales on the U.S. side and Sonora on the Mexico side) people came together from all across the Americas to demonstrate that the wall has not been successful in separating all our struggles.

"The border is an open wound that we can only close with everyone's help. Activities like this remind us that more than a region, we are a people injured but not defeated. We are a wounded but honorable people," commented Ana Enamorado, member of the Mesoamerican Migrant Movement, who began her struggle after the disappearance of her son, Honduran national Óscar Antonio López Enamorado, in 2010 in Mexico.

Giving Voice offers presence at border convergence
Giving Voice, a peer led organization for younger women religious, hosted an Encuentro de Hermana during the border convergence.
In a recent article published by Global Sisters Report, co-organizer Sister Julia Walsh recalled her group's desire to be present at the border: "Our discussions had been spirited, with a sense of call. We desired to go to the border, to show our solidarity with the immigrant brothers and sisters, to raise our prophetic voices on behalf of those who were most threatened by the violent political rhetoric tormenting our country. Through the summer months we spent many hours meeting and planning. Our plans evolved and leadership changed. Still, we continually felt guided by the Spirit, moved by a persistent hope."
The weekend was a chance to commemorate the many who have been lost to violence due to U.S. foreign policy, in particular policies that support rampant militarism in Latin American countries and amplify "security" on the border. This year sounded a particularly poignant echo after over 12 months of rhetoric about Mexico, border walls and the criminality of migrants. It was also a time to co-create a fresh vision of how to be a part of an Americas (north and south) that shares land and resources creating a viable and sustainable security through interdependence.
As St. Francis wrote, "A single sunbeam is enough to drive away many shadows." The current situation on the U.S. border combined with the historical legacies of U.S. imperialism in Latin America can feel overwhelming. How do we begin to address the radical needs we see in Honduras or in Ciudad Juárez?

The SOAW vigil offered a simple and single sunbeam—we begin with the people who are the most impacted and we join them on the journey. We listen to the stories of detention, of fleeing persecution, of loved ones missing in the desert and through that basic witnessing we can begin to grow in ourselves and in the community the capacity to act courageously for change.