Justice for genocide and modern slavery
Justice Network News highlights FSPA justice activity and offers readers a broad view of the work sisters and affiliates are doing together.
8th Day Center for Justice
by Liz Deligio
8th Day Center for Justice recently began working with the local coalition We Charge Genocide. The coalition mission statement reads: "We Charge Genocide is a grassroots, inter-generational effort to center the voices and experiences of the young people most targeted by police violence in Chicago ... too often used by the police to silence, isolate, control and repress low-income people and young people of color in particular."

In response to systemic police violence against youth in Chicago, Illinois, WCG sent eight delegates to Geneva, Switzerland, to present at the 53rd session of the United Nations Committee Against Torture. The delegates' goal was to increase visibility of police violence and continued impunity of police officers who abuse, harass and kill youth of color in Chicago. The presentation followed up on the submission of the shadow report, Police Violence Against Youth of Color, published by WCG. A shadow report offers the space for concerned community members to highlight abuses the U.S. government denies or minimizes in their own report to the United Nations Committee.

8th Day Center for Justice is honored to join with these young activists who are willing to risk by raising their voices against one of the most powerful governments in the world. 8th Day knows it is part of our call as Catholics to accompany communities as they challenge systems of power. To learn more about the amazing organizers behind We Charge Genocide visit www.wechargegenocide.org.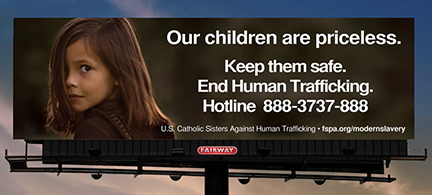 Task Force to Eradicate Modern Slavery
January 2015 was National Human Trafficking Awareness Month—an opportunity for the world to speak up for the exposure and elimination of modern slavery. Locally, it was the inauguration of yearlong efforts crafted to combat the crimes against humanity that put $32 billion in criminal pockets.

The La Crosse Task Force to Eradicate Modern Slavery chose public media campaigning as its primary 2015 focus. An image—one of a child appearing locally in five billboards and a full-page magazine ad (in collaboration with U.S. Catholic Sisters Against Human Trafficking)—called for the simple, instant action of dialing 888-3737-888 or visiting www.fspa.org/modernslavery to report suspicion.
Radio exposure was another campaign tool. Sister Marlene Weisenbeck gave interviews in January to La Crosse's WIZM News Talk Radio as well as Viroqua's WDRT Driftless Community Radio and WVRQ Great Rivers News. A 30-second public service announcement implored people to "join the movement" and "pledge to end demand" of human trafficking.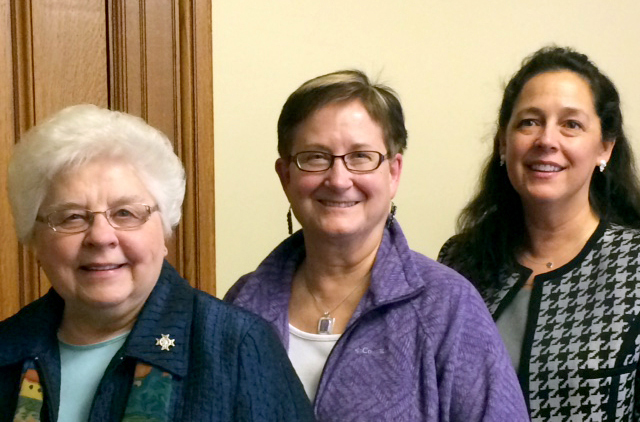 January 14 set a state-wide stage at the capitol in Madison upon which Rep. Jill Billings hosted a human trafficking symposium. Other legislative representatives were there to listen and learn as task force delegates and service providers from around Wisconsin—including Sister Marlene—contributed accomplishments and concerns.

"This was a great opportunity to share faith-based initiatives and what my Franciscan sisters and I have been doing in
La Crosse," she said, lauding the task force members, the professionals, the people in the community and "the state government for taking notice." Said Rep. Billings, "As a border town, La Crosse is in a very unique position to fight sex trafficking. We need community leaders like Sister Marlene," she said, "on the leading edge of this issue."

While Rep. Billings is pursuing a Safe Harbor bill that exempts minors who report trafficking from prostitution charges (legislation that is increasing convictions in other states), the La Crosse Task Force is, among other actions, networking and collaborating with additional faith-based, national, state and local coalitions (including the U.S. Catholic Sisters) and establishing a uniform training toolkit.

Sister Marlene reminds us that these means—and the many more that must follow—are to a just and humanitarian end. "In our experience, we are learning that raising awareness is our biggest task. Many people do not want to believe the extent of human trafficking either locally or globally. Pope Francis urges us to counter the efforts of these 'merchants of human flesh.'"