Furthering your spirituality: Prairiewoods' universe story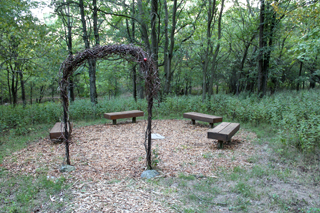 Eighteen years into its history Prairiewoods Franciscan Spirituality Center, Hiawatha, Iowa, continues its mission of offering a sacred space to all who want to nurture their relationships with the source of all being, Earth, self and others within an increasing awareness of the story of the universe.
This ongoing effort to understand the connections between the universe story and Christian theology and tradition takes many forms. Services offered at Prairiewoods are often related to the integration of insights between new discoveries in science and the traditional ways in which faith is understood. The staff provides spiritual direction, counseling, holistic therapies and a wide scope of programming with a special interest in ecology.
As an ecospirituality center, Prairie-woods calls to life the Franciscan tradition of respect for the sacredness of Earth and all her creatures. The 70 acres of woods and prairie, much of it restored to its original native species, are developed under a carefully drawn land management plan. The woods—with trails, outdoor labyrinth and cosmic walk—offer space for solitude and reflection.
The use of solar power has grown throughout the years. Solar panels provide hot water for the Guest House and electricity for two straw-bale construction hermitages. An array of 100 panels, installed in 2009 and 2010, were financed through donations and grants from FSPA and the state of Iowa. About 50 percent of the energy used in Prairiewoods' largest building comes from the sun.
In 2012, Prairiewoods was awarded LEED® (Leadership in Energy and Environmental Design) Gold certification for existing buildings. This rating is based on the energy efficiency of the building itself, as well as the environmentally friendly policies and practices in place.
Recently, Prairiewoods has expanded its networking within the Cedar Rapids community, especially through its signature program, Spirituality in the 21st Century. Following the 2013 event in this series, more than 50 local organizations committed to ongoing conversations around community development. The overwhelming response to this program, entitled Engaging Community, Narrating Change, has placed Prairiewoods in a new context of relationships within the community.
The program held in 2014, Rooted in Compassion: Cosmology, Eco-Justice and Empathic Wisdom, brought Marc Ian Barasch and Drew Dellinger to Cedar Rapids to continue the conversation on the welfare of the planetary community.

Under the leadership of its director Laurie Harris, Prairiewoods continues its efforts to invite people together for dialogue and transformational experiences. Join the conversation at www.prairiewoods.org.