FSPA welcomes 44th class to perpetual adoration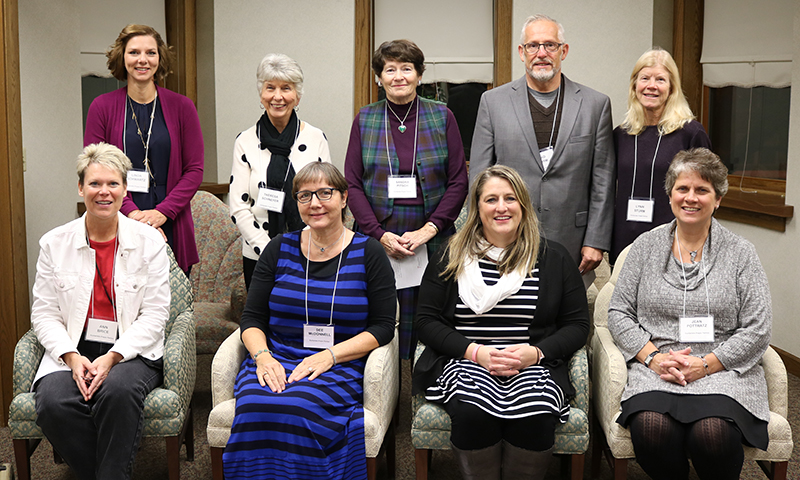 Back from left, Linda Schwartz, Theresa Schneyer, Sandra Pitsch, Brad Sturm, Lynn Sturm. Front from left, Ann Brice, Dee McDonnell, Becky Lueck, Jean Pottratz.
Ann Brice
Ann is a member of Sons of Abraham in La Crosse, Wisconsin. She serves on the synagogue board and is a Torah reader. She has the honor of serving as a member of the Chevra Kadisha, the group that prepares bodies of the deceased for burial according to tradition. Ann also volunteers for the Come to Supper meal program.

Maria Keaton
Maria is a member of St. Joseph the Workman Cathedral in La Crosse. She taught English for 16 years and now cares for her mother (although, she adds, she and her mom devotedly take care of each other).

Becky Lueck
The Franciscan Sisters of Perpetual Adoration have shone positive light in Becky's life for many years. Growing up in West Point, Iowa, she was connected through teachers and principals of Marquette schools. When her family moved to La Crosse, she finished high school at Aquinas. She and her husband, Alex, have a 4-year-old daughter, Clare, and are members of St. Patrick's Parish in Onalaska, Wisconsin. Becky is a school counselor at Southern Bluffs Elementary in La Crosse.

Dee McDonnell
Dee is a member of Holy Trinity Parish in La Crosse and enjoys singing in the choir. She worked in health care for 24 years, 12 at Mayo Clinic Health System-Franciscan Healthcare. She enjoys singing in the Coulee Region Gospel Choir. Dee's husband Bob is her best friend and support. They have three children and one grandchild.

Sandra Pitsch
Sandy is a member of Mary, Mother of the Church Parish in La Crosse where she serves as a eucharistic minister and gift bearer. She is a retired nurse, enjoys gardening, quilting, tennis and golf. She has two daughters and one grandchild.

Jean Pottratz
Jean is a retired registered nurse and faith community nurse. She enjoys quilting and traveling the U.S. In the process of searching for her faith community, Jean visits St. Rose Convent often.

Theresa Schneyer
Theresa is a member of Roncalli Newman Catholic Parish in La Crosse where she serves as a eucharistic minister and reader. She has four children and six grandchildren. Her husband Bob, whom she dearly misses, passed away in March 2018.

Linda Schwartz
Linda is a member of Mary, Mother of the Church Parish where she serves as weekend sacristan and eucharistic minister. She also is a part-time secretary at Blessed Sacrament Elementary School. She and her husband Andrew have two sons who attend Aquinas High School. She and her family help prepare meals for the La Crosse Warming Center.

Lynn and Brad Sturm
Lynn and Brad are members of Mary, Mother of the Church Parish. Lynn is a retired nurse and serves on the Viterbo University Board of Advisors. Brad serves on his parish finance counsel, Catholic Charities Board of Directors and the Diocese of La Crosse Finance Committee.