FSPA steps up to 'The Challenge of Today's World Refugee Crisis'
We've been surrounded by Syrian refugees tormented by rebel attackers—images of panic painfully explicit, struggles to safety sharply heart shattering—for about four years now. We've watched radical aggressors storming large-scale scores of innocent civilians; men, women and children pushing and pouring out of geographical, doctrinal borders with which some politicians play self-serving games of tug of war.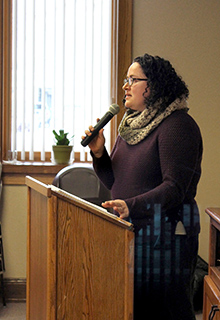 "Vote for me and I will close them!"
"Cast your vote for me and I will keep them open!"
"Close them!"
"Open them!"
As Americans advance to the polls, Muslims in the U.S. are pulled from political rallies; plucked from planes.
And we sit and we watch. From around the world. Every day.
But members of the FPSA Justice Network are turning away from news media and standing up to the international migration crisis asking "What is ours to do?" In mid-January Liz Deligio, FSPA's Justice, Peace and Integrity of Creation Coordinator from Chicago's 8th Day Center for Justice, answered their call with her presentation The Challenge of Today's World Refugee Crisis at St. Rose Convent in La Crosse, Wisconsin.
"She illustrates how the movement of people around the globe has reached an unprecedented moment as uncounted numbers of people flee their home countries because of poverty, war and environmental disaster ... the present state of life in the Middle East, specifically Syria," said Sister Catherine Kaiser, chair of the FSPA Justice Network Committee, in her introduction of Liz to the audience of sisters and affiliates.
Not to shock but to enlighten, Liz drew upon the poignancy of imagery to portray some of the gravest problems in Syria, "one of the most dynamic situations the global community is facing;" and in the United States, "our own border crisis."

With an image of two Syrian people treading a desiccated landscape (see images left to right above), Liz flashed back to 2011 and two insightful conditions: a drought that "devastated over 800,000 farmers ... an environmental disaster that ... created a mass internal displacement," and anti-government graffiti of Syrian President Bashar al-Assad which "sparked an initially-peaceful civilian uprising."
With an image of children and adults in a Syrian community gathered peaceably, Liz illustrated such nonviolent discontent but sharply punctuated the portrait with what came to pass in the streets. "Many scholars believe that Syria became worse because President Assad intentionally radicalized the rebellion in an attempt to discredit it" and then "released known terrorist activists from prison and ignored early signs ... of ISIS. The Syrian Civil War is arguably the worst humanitarian crisis since the Second World War ... the largest battlefield and generator of Sunni-Shia sectarianism the world has ever seen, with deep implications for the future boundaries of the Middle East and the spread of terrorism."
With an image of a similar Syrian community, this time in utter ruins, Liz showed stark contrast between people raising voices for their families to fierce, full-force civil war.
With images splashed starkly in black and white, in muddy duotones on the screen, Liz depicted The rise of ISIS, explained in six minutes in a video (watch it at www.my.fspa.org).
With an image of Middle Eastern demographics, displayed in a color-coded map, Liz laid out land divided by rebels, loyalists, Rojava (Western Kurdistan) and foreign forces—showing the territory vastly dominated by ISIS.

With an image (left to right, above) of migrants who chose to leave the relative "shelter" of rows upon rows of tightly packed white tents—a refugee camp—Liz shared these sobering statistics of the Syrian population: 11 million are displaced and an estimated 220,000 are dead; 50 percent of refugees are children "who have lost everything: families, homes, school and friends. The average refugee walks for days during the night" and if caught young men and boys "may face ... forced conscription." With Russia executing airstrikes, Jordan and Lebanon shelter the vast majority of migrants now fleeing to Turkey and Europe through Greece. Those undocumented may not have access to water, food or shelter, and those "lucky ... face long delays" for school enrollment and health care. The U.N. predicts it will cost $7.7 billion to fund refugees in 2016, and reports the crisis as "the largest mass exodus of a country since the Rwandan genocide."
With an image of small children flashing grins and peace signs on a crowded beach, Liz reiterated salacious soundbites: "Donald Trump calls for a 'database' to track Muslims; Ben Carson compares Syrian refugees to rabid dogs; Jeb Bush calls to only allow in Christians. To be clear," Liz said, despite the most stringent vetting process, "we are incapable of protecting ourselves from Syrian children."
With an image of children roughly 6,677 miles away from Syria, locked in cages in America, languishing with sparse blankets on a concrete floor in a detainment center operated by U.S. Customs and Border Protection, Liz proclaimed "our own migrant crisis." On average in 2009, "border patrol officials were interacting with about 19,000 children a year; in 2014 it went to 65,000 and predictions for [2016] are as high as 86,000," she said.
With an image, a headline titled "What can we do?" Liz strongly urged action: appeal to local government to welcome Syrian refugees into your community; submit letters to editors of local publications; advocate for the abolishment of hate speech; encourage leaders in your community to meet the needs of refugee populations; initiate awareness; and collaborate and participate.

And finally, with an image intoned yet ingraining, Liz illuminated Pope Francis and a statement he recently made in conjunction with the United States Conference of Catholic Bishops. "He wants to hear an international conversation," she said, "about [refugees] as people, not as a legal status, undocumented or illegal; that the church will stand with all organizations that work to serve this population; that, in particular as a global community, we need to recognize how migrants become particularly vulnerable to trafficking, especially children; and to deal systemically with structures and social issues that are creating the crisis. How do you respond to the drought, the civil conflict, the connection to Iraq and ISIS?" Liz concluded, "How do you unpack those things?"
For more information, Liz recommends two policy resources promoted by USCCB during National Migration Week: European Refugee Crisis and Unlocking Human Dignity.
Those present for The Challenge of Today's World Refugee Crisis took away these images in their minds and the afflicted in their hearts.
Sister Julia Walsh:
"As Christians, I think the message is very clear: we are called to respond with compassionate, bold and nonviolent action in order to offer messages of love and hospitality—even while so many live in a state of fear. I was grateful to hear about other congregations of men and women religious who have created houses of hospitality in order to offer an alternative from detention centers to immigrants awaiting trial. I wonder how FSPA might collaborate or create such a home."
Sister Linda Mershon:
"Liz helped me understand the economic, political and social ramifications contributing to the need for refugees to leave their homeland and similar complexities when they arrive in their destination countries. I found it hard to reconcile Mr. Obama's recent actions of sending refugee children home in large numbers while at the same time working on behalf of refugees in other places. Politics seem counter to the welfare of people in need."
Affiliate Shirley Huhn:
"Liz's presentation was distressing. It's quite overwhelming as I listen, each day, to news coming out of Syria and that part of the world. We owe it to the people who are suffering to know about their suffering; to stay informed and speak up for the refugees."