FSPA Sponsorship Conference attendees reflect on five ways to experience joy
Servant leaders from FSPA-sponsored institutions attending the annual sponsorship conference reflected upon small group discussions circulating around John McHugh's five ways to experience joy. Their reflections are shared here.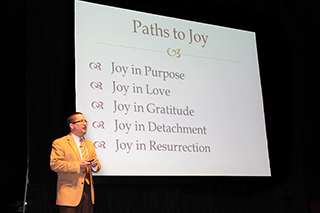 Joy in Purpose
I love what I do. That's my response to folks who ask me "How's it going?" It's true I feel a deep sense of gratitude for the opportunity to be engaged in such a meaningful role. A day doesn't go by that I don't feel a sense of privilege to have this chance to serve this organization and the patients and families that come to us for their health care. I am even grateful for the hard days. Those hard days keep me grounded. - Joe Kruse, CEO, Mayo Clinic Health System-Franciscan Healthcare La Crosse
Joy in Love
"But now faith, hope, love, abide these three; but the greatest of these is love." (Corinthians 13:13) We have all heard this Scripture but how can love make a difference in how we care for our patients, residents and families? Loving, as Jesus loved, is the center of fulfilling our healing ministry and mission at St. Anthony. It's demonstrated every day in how we care for people. As development director, I'm blessed to hear stories of specific caregivers or departments that have gone above and beyond with love and been honored to assist them find ways to leave a lasting legacy by financially supporting the programs dearest to them. - Trish Roberts, Certified Fund Raising Executive, St. Anthony Foundation, St. Anthony Regional Hospital and Nursing Home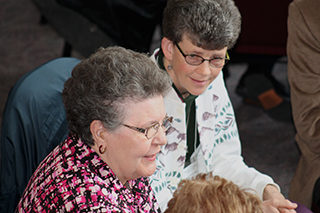 Joy in Gratitude
How do I embrace joy in gratitude? I don't. I am a sober pessimist by nature but working within a Franciscan institution like Viterbo, joy constantly embraces me. Every day, good people are talking, laughing, sharing, remembering, hoping--and before one knows it, joy in gratitude has become second nature. - Richard Kyte, director, Viterbo University Institute for Ethics in Leadership
Joy in Detachment
I believe the gift of detachment gives me the ability to let go within myself not only possessions but opinions and ideas that really don't enrich my life or anyone else's. At the Villa, sisters are continually going through detachments of possessions and abilities, especially those that are health related. Some are able to do it so gracefully. I see the peace and joy that radiates from them. It gives them that special opportunity to just be before the Lord and enjoy the moments at the Villa as they enfold. - Sister Carrie Kirsch, pastoral caregiver, Villa St. Joseph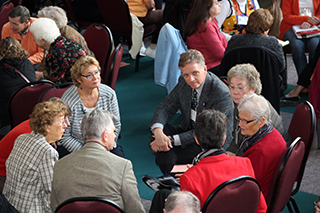 Joy in Resurrection
It is the open space, the undetermined space, between detachment and resurrection that is full of possibility for our organizations. When staff and board members operate from this creative holy space, an awareness of possibilities to further our mission emerges. The paths of joy are regenerative. The gift of resurrection birthed out of purpose, love, gratitude and detachment renews hope and bestows lasting joy. - Laurie Harris, director, Prairiewoods Spirituality Center

For more about the annual FSPA sponsorship conference, enjoy the stories shared by conference speaker, John McHugh.