FSPA raise money for, compete in three La Crosse-area fundraisers
It was game on for several FSPA this spring! These sisters mailed letters, made phone calls and used social media to gain support of their respective fundraising competitions.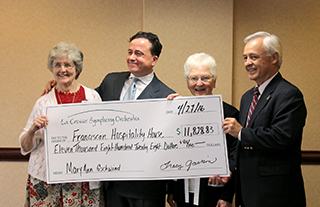 From left, Sister Mary Ann Gschwind, Maestro Alexander Platt, Sister Karen Neuser and Roberto Partarrieu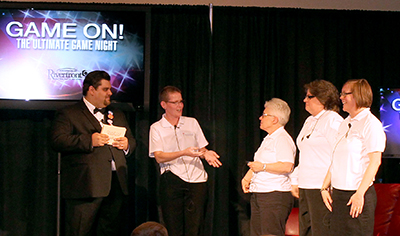 From left, Game On host with Sisters Sue Ernster, Karen Lueck, Laura Nettles and Julia Walsh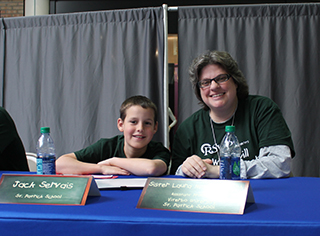 Fifth-grader Jack Servais with Sister Laura Nettles
Sister Mary Ann Gschwind was one of six individuals who raised funds for the La Crosse Symphony Orchestra—competing to be a guest conductor at the April 30 symphony. And conduct she did! Sister Mary Ann raised $23,657.66 to earn her second place in the competition and the opportunity to conduct (with fellow contestant Joe Heim) Mendelssohn, Scherzo and Wedding March from A
Midsummer Night's Dream during the symphony's Music for the Bard performance. Half of Sister Mary Ann's funds raised were donated to her charity of choice, La Crosse's Franciscan Hospitality House.
For the Franciscan Gamers, Sisters Karen Lueck, Julia Walsh, Laura Nettles and Sue Ernster, it really was game on. The team raised funds for La Crosse's Riverfront organization. On April 29 they competed against seven other teams—playing games similar to those featured in the TV game show Hollywood Game Night—to earn the title Game On! The Ultimate Game Night winners! The FSPA team finished second (after several tie-breaker trivia questions in the final round). Overall, all eight teams raised $41,505.31 for Riverfront. And, by making it to the final round, FSPA earned $600 for special education programming at Aquinas High School.
And Sister Laura Nettles was back in competitive-mode, finishing in fourth place in the annual Who Will Be Smarter Than a 5th Grader fundraiser for La Crosse's Retired Senior Volunteer Program. Sister Laura, paired with Jack Servais, a fifth grade student at St. Patrick's School in Onalaska, answered trivia questions—from math to science to pop culture—during this fundraiser held May 7. Together the 16 contestants and their fifth grade partners raised $84,902.26.