FSPA: nurturing family caregivers nationwide
Sisters' support of CareGiving.com connects caregivers, gives voice to wisdom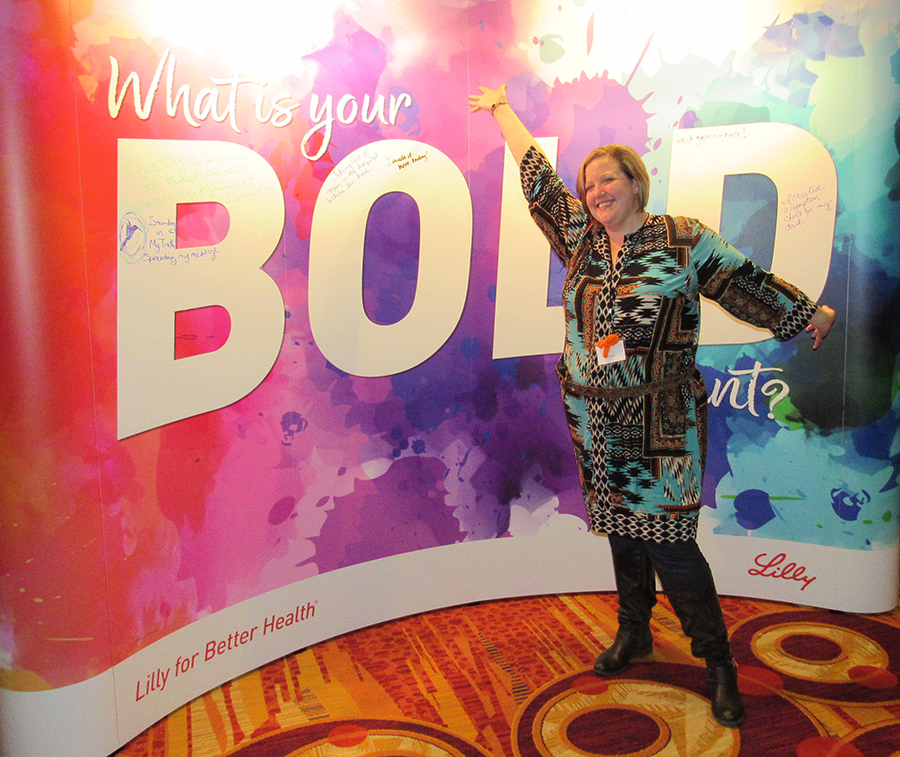 Marti Hannon. Photography contributed by CareGiving.com
Night sometimes calls stress, loneliness and exhaustion to our surface. For some, it can also carry cries for help from the next room: pleas for assistance to the bathroom, a sip of water to drink, a momentary relief from pain.
Many who spend dark hours like these on a daily basis — those bearing solo ministries as constant caregivers for adults with chronic illness — may lie awake not knowing about CareGiving.com. It's an organization that provides lifelines to people in such circumstances. The website is populated with chat rooms (three daily), blogs, forums, podcasts and information available 24/7. The organization's annual conference (its third to take place Nov. 9 to 10, 2018 in Chicago, Illinois) is "the only conference of its kind that brings together current and former family caregivers to share, connect, converse and support."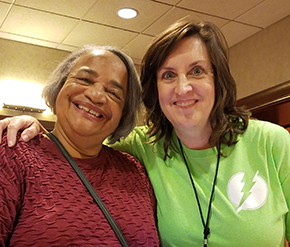 CareGiving.com Director Denise Brown (right) congratulates Sharon Hall, who cares for her mom and husband and received the organization's 2017 advocacy award.
For Denise Brown, CareGiving.com founder and director, her ministry is the very essence of what it is to give so much … maybe more than you think you have within you. "We cultivate, build and maintain relationships with those we serve — those who care for parents, spouses, siblings, grandparents and anyone we consider family afflicted with chronic illness — during a period of time in their lives they feel is the worst, the loneliest, the most isolating." They might find other friends and family members "suddenly too busy to help, and may even lose their most cherished relationships. Our priority," she affirms, "is to connect family caregivers to others in similar situations so they can form lasting and nurturing relationships with others who understand."

Of the conference, Denise says she's attended many "that tackle the topic of caregiving but from the perspective of physicians or researchers. I want to showcase the voice of the family caregiver. Our presenters and panelists are those who currently care or have previously cared for a family member because we're the experts. Every day. We talk honestly about our experiences which encourages the audience to do the same." Self-help is also stressed during the conference. "We encourage attendees to claim their experiences so they can transform the drudgery of the day into meaning."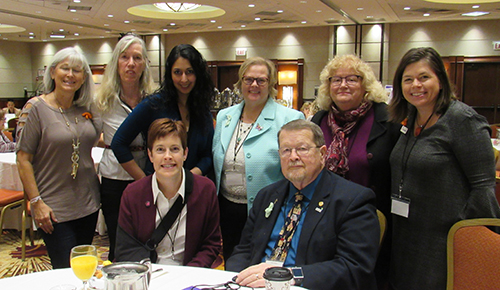 CareGiving.com Director Denise Brown (right) congratulates Sharon Hall, who cares for her mom and husband and received the organization's 2017 advocacy award.
At a previous conference were several caregivers who wouldn't have had the opportunity to share grief and strength — to afford to attend the conference and receive respite from their relentless responsibilities — if not for a ministry grant from FSPA. "The support of FSPA means the world to us." In return, FSPA may not have the honor of hearing from those who, were it not for CareGiving.com, have gifted their own wisdom. Denise (who says she's "never heard the same caregiving story twice") shares some of the most uplifting, empowering messages she's received:
"When I asked if it would be in God's will for me to attend, I had no idea how it would be possible. I'm very grateful to God and to you!"
"I returned home from the conference and, immediately bringing my father into my home for his last week on Earth, felt energized, rested and massaged with information. It's what I needed as I transitioned into a deeper caregiving mode."
"I was most impacted by the numbers of people extending care to loved ones — the enormity of the problem facing families with an aging population and inadequate funds to receive professional help. It was certainly an eye opener and an issue which must be addressed."

And Denise imparts to us an important sentiment of her own: "We are honored that FSPA believes in our mission to serve and support those who care for a family member with a chronic illness … helping them to stay healthy physically, emotionally and spiritually throughout their experience so that they can continue on with their lives after caregiving ends."

Sisters Fran and Beth: supporting 'a gift to humanity'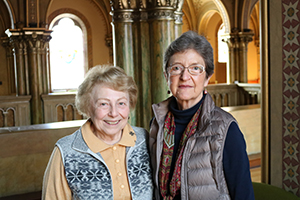 By Franciscan Sisters of Perpetual Adoration Fran Sulzer and Beth Saner

Our sponsorship began at a neighborhood pizza supper where an over-the-fence relationship took on new dimensions in a conversation around what we do for profession.

It was there that Denise Brown, who remains forever grateful for that meal, shared about CareGiving.com. She claimed it a gift to humanity that she gives without compensation for her service to those organizations. The more we heard the more we knew she exemplifies who FSPA has been in our history — a community perceiving need and responding.

As therapists and spiritual directors, we are acutely aware of the need for the services Denise offers to caregivers, so we moved to assist her ministry; to give it greater impact. We are proud to aid her in providing a national forum where caregivers come from all over to share, connect, converse and support.