FSPA moves into the next chapter of perpetual adoration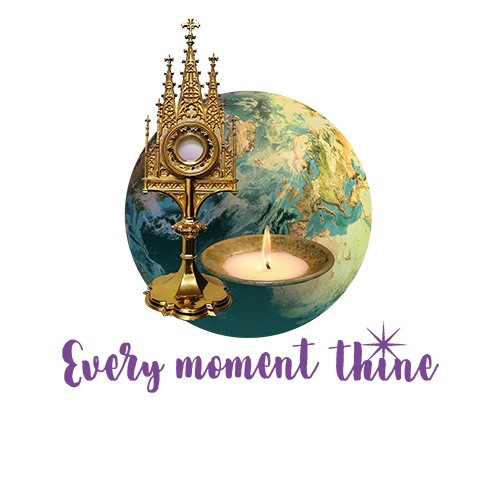 "We understand this is a pivotal moment in history. The decision to move forward has been guided by careful study, a growing understanding of Eucharistic theology and spirituality and, of course, with the support of your prayers and feedback. Let us move forward in prayer and gratitude of the adoration ministry, from Mother Antonia's promise, to fulfillment 1878 to 2020, and now, giving life to our enduring promise."
After 23 years of inviting prayer partners to support FSPA's adoration ministry and 12 years of careful study and discernment of the future of the practice, we began a new chapter in the tradition of 24/7 prayer in front of the Blessed Sacrament. On Feb. 26, 2020, sisters gathered to hear the clock chime at 10 p.m., ending that tradition. Then, on Feb. 27, we began a new chapter, praying daily from 6 a.m. to 10 p.m. in the Adoration Chapel.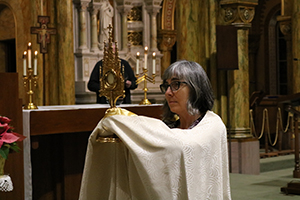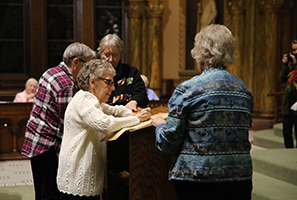 "FSPA remains devoted to the spirit of our long-standing tradition. Our thoughtful study over the years has included a growing understanding of a modern way to live in adoration through our prayer lives and actions, no matter where we are," says Sister Eileen McKenzie. "Prayer partners continue to play a vital role in the adoration ministry, as they have since 1997. Requests will continue to be accepted via the FSPA website, text line or phone, and the domes atop Mary of the Angels Chapel and the Adoration Chapel will remain lit as a sign of the congregation's continued prayer for the city of La Crosse and the world."
A shared ritual was held Feb. 25 as sisters, prayer partners, affiliates and FSPA staff gathered to reshape and renew the promise of adoration. Sisters restated the promise followed by contemplative silence:

Dear Lord,
You have blessed us, and we have responded as our means have allowed.
You have given us bountiful and meaningful ministries.
You have empowered our partners in faith and love.
With faith and trust, we put our lives into your hands, and pray:

Accept my poor light; it is the best I can give you now.
I Sister ... promise to continue deepening my adoration to the extent possible as I fulfill my vows to you to the end of my life.
With your Presence in my life, I cultivate in my heart as beautiful an abode for your Presence, as I am capable of doing.

Together, we beg your blessing on all future members of our community
and entrust to them the gift of your enduring Presence.
Remembering Aemeliana, Antonia and Ludovica and all who have gone before us, we ask this with the help of God, Saints Francis and Clare, and one another.

"We have voiced our promise once again," said Sister Eileen. "As we depart this space in the timeless experience of adoration, sisters, please sign our promise on the scroll which will lie next to the reserved Eucharist in the Adoration Chapel for time to come as a sign of our commitment to sustain our promise of adoration in our daily lives."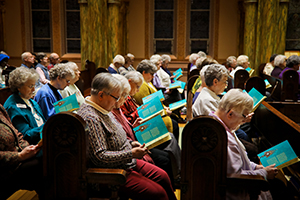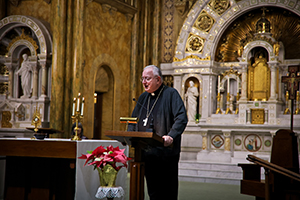 Diocese of La Crosse Bishop William Callahan offered words of comfort, courage, understanding and appreciation before giving the final blessing. Together, we prayed,

Most loving God, we pray this holy night in solidarity
with the universe and with Earth,
with all people struggling in human brokenness.
We pray in thanksgiving for the dreams of our founders, and for each of us who have continued the dream, in all the ways we have been graced.
May we continue to live and proclaim the "multi-faceted presence of God among us in creation, in Scripture, in other persons, and in the Eucharist."
Forge into our fiery hearts a continuing promise to extend adoration wherever we are, and to be God's healing presence to those in need. Amen.

And now, FSPA invites all sisters, prayer partners, partners in mission — current and future — to pray and live in adoration from any location at any time.