FSPA gives gratitude for chapel tour ministry
FSPA gives gratitude for chapel tour ministry
Maria Angelorum Chapel. The Adoration Chapel. These pillars embody FSPA's purest devotion—prayer. With high ceilings manifesting a God who transcends the finite world, windows radiating emblems expressing Christ's passion held by angels, sanctuary of adoration embodying the Triune God, the chapels stunningly— compellingly—call to all.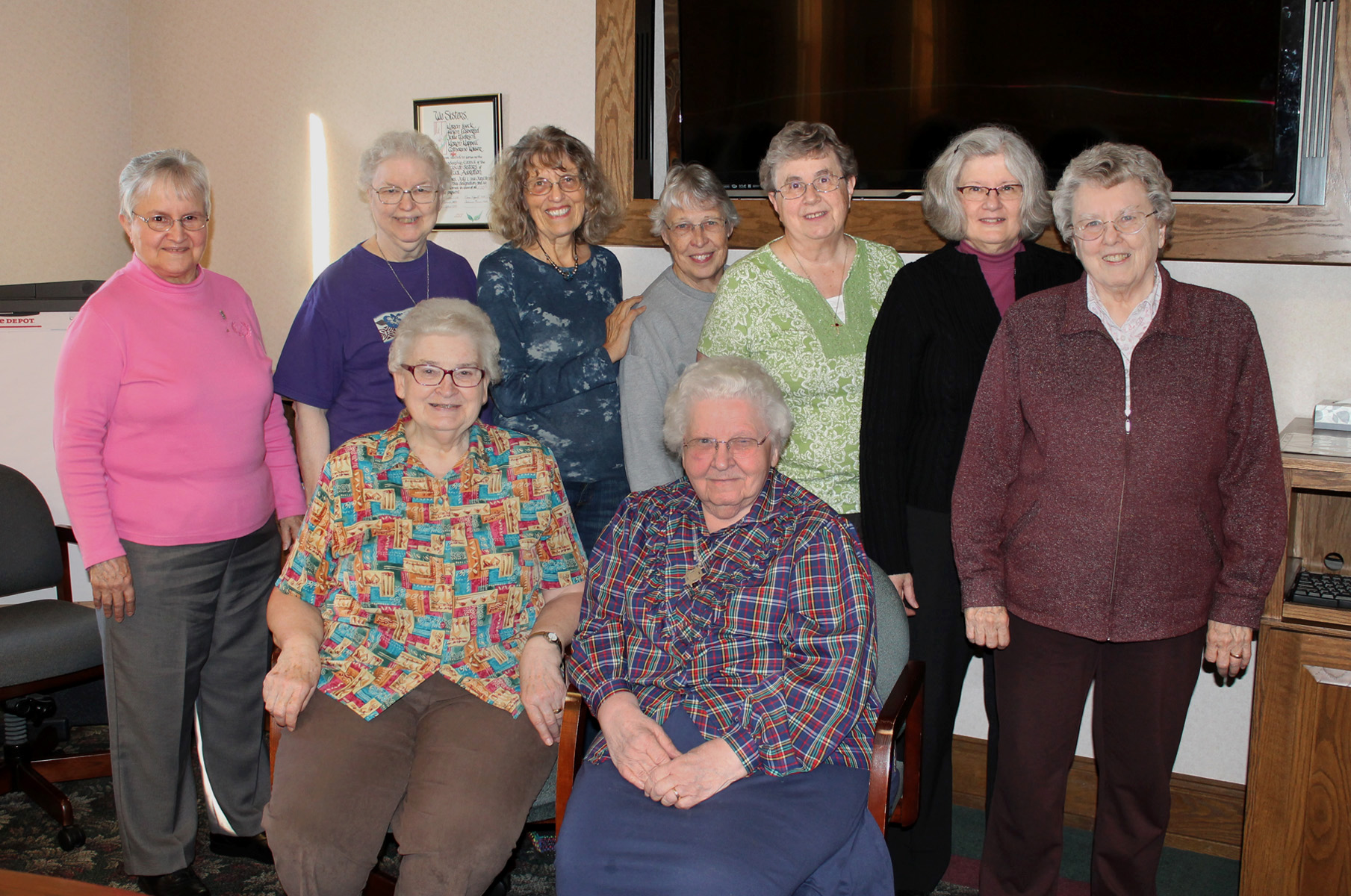 Since 1906, this wonderful creation has provided FSPA and prayer partners a Eucharistic atmosphere of prayer and peace. And after a Charles Kuralt "On the Road" story about the chapels aired in 1978, people began coming to St. Rose Convent to see them. FSPA and affiliates serving as tour guides enlighten visitors to the enormous experience overwhelming in beauty and hospitality.
Among the many who've welcomed more than 65,000 people in the past 12 years are Sister Mildred Tigges, tour coordinator from 2006 until her retirement at the end of 2016, and Sister Carrie Kirsch, a volunteer tour guide who is now leading the FSPA ministry that is "so very important to those who come."
"I love meeting people. I love showing our chapel. I love our perpetual adoration." These sentiments are the foundation, says Sister Mildred, of her St. Rose ministry as tour coordinator.
"It has been a vision of ministry," one that followed Sister Mildred's 45 years of teaching students from Iowa to Zimbabwe. She reflects on the countless visitors who have come to St. Rose, many who've "discovered a resonance of peace as they follow their tour guide through the Romanesque chapel." Realizing the need for prayer, "our visitors experience its gifts shared in our adoration chapel." Many, she says, "leave in tears." She's greeted people from around the world: ​Russia, New Zealand, India and Israel. Europeans have often remarked, "This chapel is warmer and more beautiful than any I've seen." Young people too—confirmation students "from just about every faith, wanting to talk to us about prayer and God" and elementary kids "with questions galore"—are favorite visitors. To sister Mildred they are all "absolutely marvelous."
On every tour, Sister Mildred always shared one of FSPA's most impassioned intentions; that of remembering in prayer, every hour, those who have visited the adoration chapel.
To Sister Carrie, sharing "devotion of people who so many years ago gave of their talents and time to create this masterpiece, all to worship the Lord," is "very delightful." Retiring from pastoral care for the Villa sisters in 2016 and searching "for a sense of where I wanted to go next" she decided to volunteer as a chapel guide. After learning about the history and architecture for herself, "I was kind of hooked."
Sister Carrie has seen such captivation in many of the visitors she's guided as well. One gentleman came in with a group and wandered around a bit. A native of Cuba, he identified the statue of St. Barbara, his home country's patron saint. "He was enthralled by her presence here; he made a connection." Like Sister Mildred, Sister Carrie finds fascination in children too. "How many angels do you have in here?" she's been asked. "From down on their level" they find their own enchantment; "connect with the beauty of the angels."
She sees many who come and take in such a gift of adoration "nod their heads. Realizing all that we pray for in the world, the importance of this ministry," finds Sister Carrie, "makes an impact on people."​