FSPA: at home with family and friends in Tanzania
Maria, Asimwe, Magdalena, Annajoyce, Aisha, Anita, Elliot, Safura, Agnes, Chiara, Edina, Editha and Irene. Joseph, Raphael, Nazalius, Anthony, Kulwa, Dotto, Christoph, Daniel, Steven, Boniface, Johannes, Eric, Michael and Paul.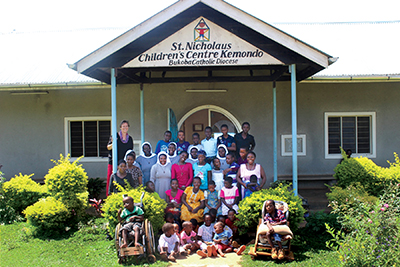 To Stefanie Köster, these girls and boys are "my children." They "learn to accept themselves and each other with all their disabilities and limitations ... are happy." Stefanie shares "in their home."
Photos courtesy of Stefanie Köster
These 27 children are the boys and girls, ages 1 to 19, who live as a family in their home—St. Nicholaus Children's Center (Nikolaushaus)—in Kemondo, Tanzania. They come to reside at Nikolaushaus after losing parents, or suffering disabilities that leave them without care or support from their families and communities (some are said to be hidden away or simply abandoned). They are part of a population largely suffering from malnutrition and illness in the East African country where, reportedly, around 50 percent of its people are 18 years of age and younger.
Stefanie Köster is the woman who, when asked what she dreams of for these children she cares for as her own, quickly replies "That would be 27 long answers." Finding such overwhelming need for these children in Tanzania she began to ask questions that led her to found and build St. Nicholaus, part of a faith-based organization within the Bukoba Catholic Diocese, in 2011. But fundamentally, she explains, "I want my children to develop to be the best of their potential and abilities ... to become mature adults with solid foundations to build their lives on."
Director of Nikolaushaus, Stefanie has adopted a family of caregivers, teachers and religious mentors who embrace each child "in a loving manner, enriching their lives, promoting spiritual, emotional and physical well-being." And in this home "true loving spirit, the principles of the Catholic faith" instill in the toddlers, the young adults and the children in between that "we are all created in
the image of God."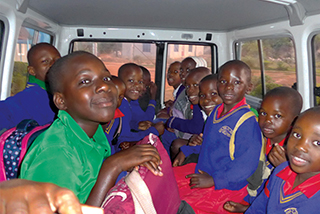 These excited children and their smiles fill the Toyota Landcruiser for the first trip to school.
As in every family there is much to do to foster healthful, happy reflections of God. They are taken to church. Those who can attend school do so, and those who can't are home schooled. All disabled children and their parents from the surrounding areas are invited to come over on Saturdays when Nikolaushaus opens its doors as a free outpatient clinic. "We counsel the parents and refer the kids to medical specialists, special schools." Physical therapy, even medication to treat conditions like epilepsy, is provided at no cost. "We try to support parents with advice and practical help."
Sarah Hennessey is the Franciscan Sister of Perpetual Adoration whose heart is called to Stefanie and her children, to their home a world away in Africa. In 2005, the two women were novices together in the Third Order Regular Franciscan Common Novitiate. Since then they've shared their lives from far away, like close friends do, exchanging the latest news of what's happening at home: for Sister Sarah from the places she's served like Owatonna, Minnesota (in parish ministry), and St. Rose Convent in La Crosse, Wisconsin (as perpetual adoration coordinator); and Stefanie from her home in Tanzania. "I've received photos and progress reports and even met two of the children when Stefanie visited the U.S."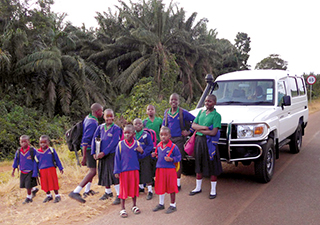 The caregivers and children of St. Nicholaus Children's Center in Kemondo, Tanzania, are overjoyed with their new vehicle which will carry children to school and medical appointments.
When Sister Sarah asked (as good friends do) about the greatest needs of the children, she was overjoyed with the means to provide one of the 27 answers Stefanie's been praying for. "They were without a vehicle to get the children safely to school, doctors, meetings, church." Knowing "no one better than Stefanie to spend every penny to wisely help the most vulnerable," Sister Sarah asked FSPA to contribute to funds allocated for the purchase of a new van for the St. Nicholaus family. "I have never requested a ministry grant before, and was waiting for one that I thought was really important."
As, when it comes to family and friends, love is.