FSPA: aiding health care in Siouxland
By Jennifer Pick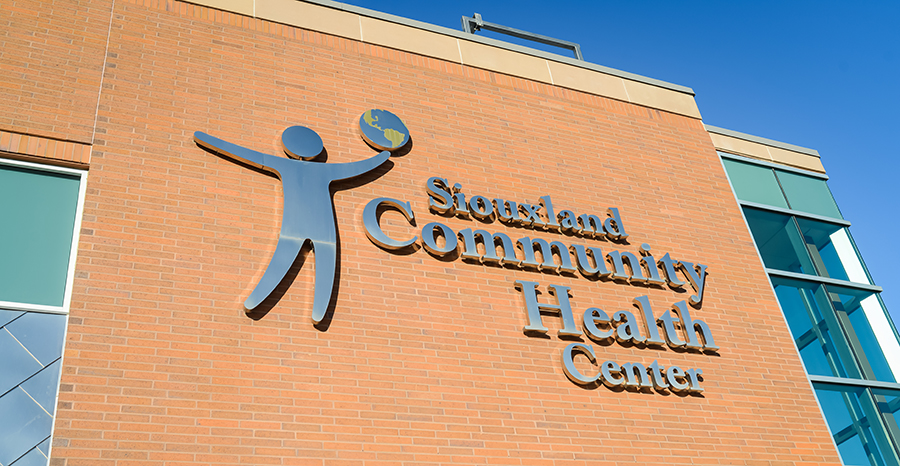 At Siouxland Community Health Center, Sister Theresa Keller cares for two sisters and so many others in need. She also gives "a shout out to the rest of the staff who
are really dedicated to working with the underserved. I have a good team." Photography by Nichole Bunce.

Her mornings of ministry often begin, I discovered, before her evenings end.
I was scheduled to shadow Theresa Keller, FSPA, to get to know her ministry of health care at Siouxland Community Health Center in Sioux City, Iowa, at 8 a.m. on a Friday. She confirmed our meeting (with an apology for such a late response) at 11:59 p.m. on Thursday. "Sorry so late. Just returned home from a long day."

Sister Theresa, an advanced practice registered nurse who cares for patients in Siouxland's urgent care center, was already elbow deep in her schedule by the time I arrived at 7:45 the next morning. She welcomed me with an enormous smile and hearty hug but concern in her eyes for those underserved, unwell and already waiting in the clinic's many exam rooms, over-utilized significantly in a season socked in by flu. Before I could orient myself to the surroundings, she was out of her office and down the hall to visit the first on her rapidly-rising patient list.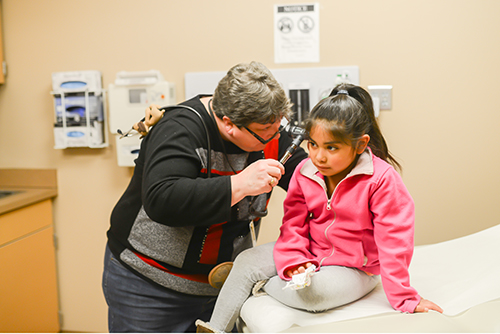 When I caught up to Sister Theresa she was gently greeting a little girl in a bright pink jacket, perched on an exam table with much discomfort in her red eyes, presenting (the screening confirmed) with influenza A and B. Sister Theresa then quietly turned to the girl's baby sister, squirming on her mother's lap, inconsolable with upper respiratory congestion. Medication was prescribed for both children and filled by their mom with immense gratitude at the clinic's pharmacy for a small, reduced fee.

Later, Sister Theresa told me that Siouxland's clinic, which has grown from one small wing of a building with just a few providers to over 25 caregivers in two large clinics in Iowa and Nebraska, is a "gateway to health care for the underserved," mostly the Latinos (like the young mom and her daughters), Native Americans and those from East Africa (like Somalia) who have migrated to work in processing plants founded in Sioux City over the past 10 years of the city's industrial resurgence. Most arrive with little-to-no financial or familial support. While the two little girls received necessary care in a winter rampant with flu, often times Sister Theresa sees new moms struggling to breast feed their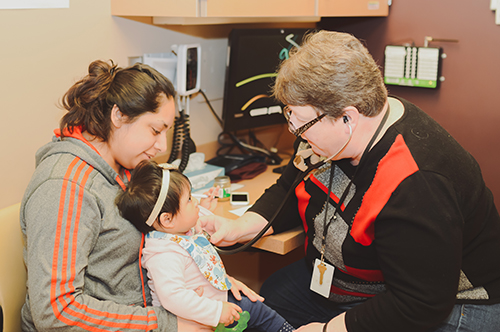 babies and, without any maternal, familial advice, seeking help at the urgent care clinic. "And a baby who is teething and has a touch of a fever, whose parents don't have a thermometer," said Sister Theresa, "doesn't need immediate intervention."

After a quick check-in with the nurses and a few fleeting moments at her computer, Sister Theresa treated a man for another possible case of the flu. He said, in heavily accented English, that he had no over-the-counter medication at home and felt so weak and woozy that he almost didn't make it to the clinic. She kept reminding the dehydrated man to sip slowly from a cup of water, but as he looked around the room his wide eyes were so full of thankfulness for such personal attention, it was as if he was forgetting to drink.

Later, Sister Theresa told me that too many patients like him, probably an immigrant working at one of the plants, "have difficulties with the rigorousness of the work," perhaps merely exist in Sioux City. "I feel I am teaching folks more that they have a significant responsibility to help the healing process … their own wellbeing."

Later, Sister Theresa shared with me that in her ministry of health care which began in 1980 and has taken her from Cameroon to Iowa, and many patients and students (she's taught nursing) in between, "I cannot think of a time when my work was not focused on social justice." But thankfully, at Siouxland, taking action for the need all around her "is easy to do." While she treats many patients suffering from domestic/child/elder abuse and mental illness, Sister Theresa also receives support in "... networking with government officials, the homeless coalition, the Pride Foundation" and various other awareness movements. "The action — as women religious have always been focused on social justice — goes on and on."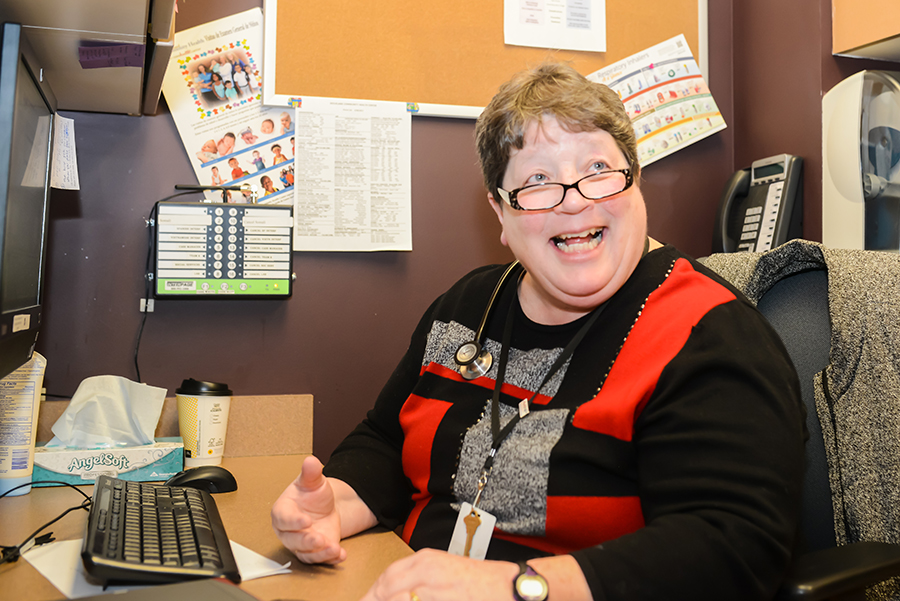 Later, Sister Theresa shared with me that what gets her moving in ministry each morning, even after not much sleep the night before, is both coffee (noted by a longed-for-but-sadly-cold mug on her desk) and prayer. "Formal prayer for me is early hours of the day, most of the time with just a cup of coffee. It quiets my soul … focuses my mind on what really matters. I can spend the rest of my day present to the moment."

As I left Siouxland and Sister Theresa running to her next patient I knew, with relief for the many underserved people inside so in need of her care, that she absolutely would be for them.