From Northwoods to Communidad Hispana
From the Northwoods to Comunidad Hispana: doing 'what is ours to do'
I have done what has been mine to do. Do now, what is yours to do."
Anita Beskar, FSPA, shares this ardent appeal by St. Francis of Assisi. She herself is ministering to — speaking out for — the "small, hidden and invisible" Hispanic population in northern Wisconsin. "At this time in our tumultuous world, 'what is ours to do' becomes more and more a call to become community in solidarity with the oppressed."
Sister Anita is heeding this call as a member of the Sisters' Forum Collaborative Advocacy to the Hispanic Population of the Diocese of Superior. The sisters have forged a partnership with Comunidad Hispana, an organization working to help these underserved neighbors in northern Wisconsin to "participate in the community, and to improve their quality of life through personal development." Such outreach is advocacy for "human and legal rights, safe living and working conditions and access to ministry within the church," says Sister Anita. "It must be addressed collaboratively and immediately." And it's an impassioned mission for the sisters, to stretch their resources throughout the diocese to aid Hispanic communities currently out of reach.
All doing what is theirs to do.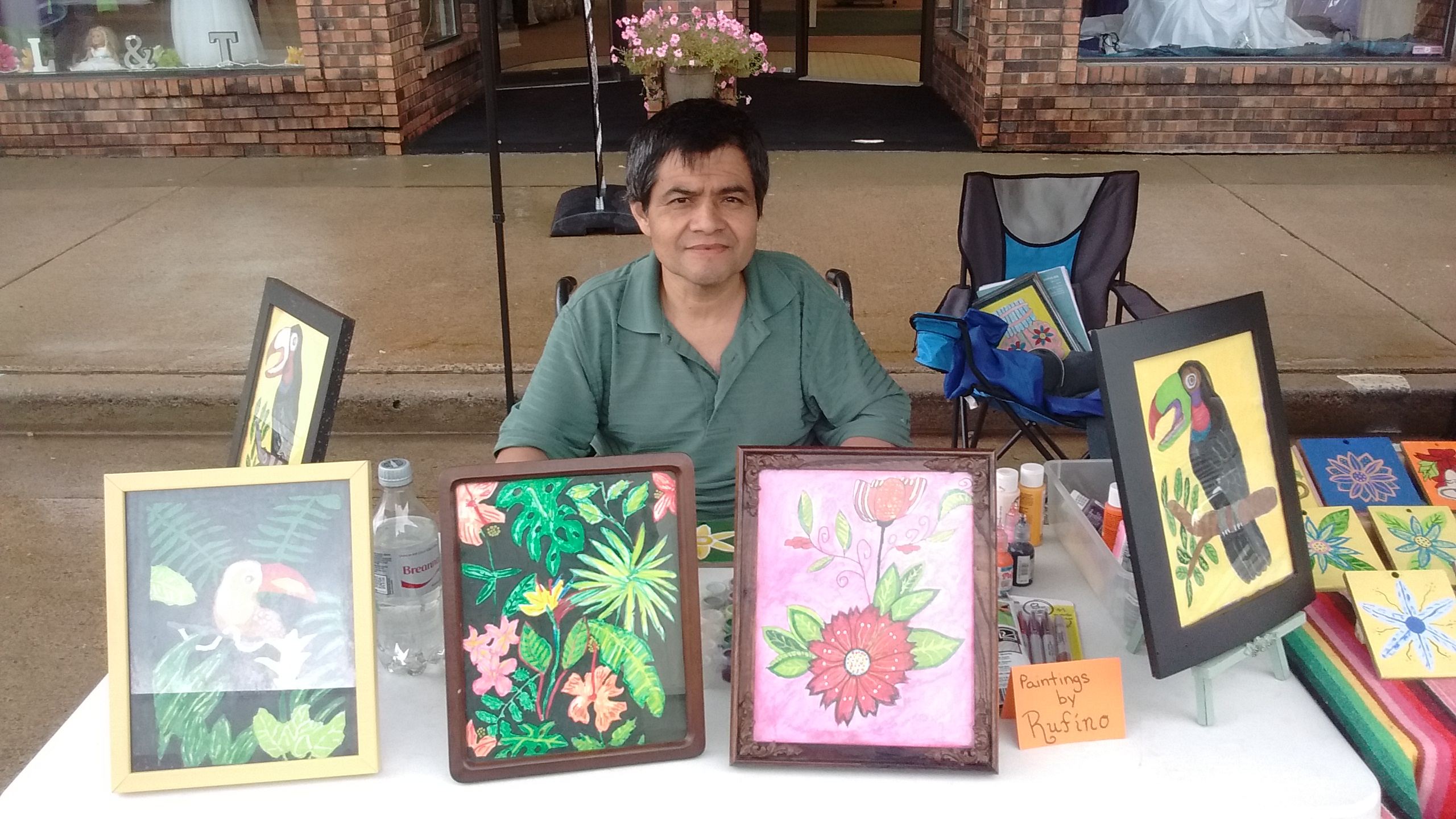 Self-sufficiency and cultural pride collide for this artist, who sells his work through Comunidad Hispana at a local community event.
Photo courtesy of Comunidad Hispana

Comunidad Hispana has been advocating for and working to empower the Hispanic population there since 2006 says Sister of the Holy Cross Mary Thomas Reichl, also a member of the collaboration of women religious. Now "the organization serves more than 200 Hispanics" with goals to enable self-sustainability, to give people the confidence to go out into society and participate in church and community. "We're working with a University of Wisconsin extension office to offer classes for healthy diet, healthy living," she says. A new GED program is underway and local dairy and tree farmers, who employ many in need of jobs, are offering spaces in which the teaching and learning can take place.

All doing what is theirs to do.
But now critical, humanitarian work, as Sister Anita implores, is what we all have to do.
"With the increased fear caused by the upheaval of immigration policy, this ministry has become increasingly imperative," she says. Grants that fund programs are fewer. And, says Sister Mary Thomas, "These people are very sad and fearful, quite careful wherever they go and whatever they do." Currently, only three immigrants known to the program are actively pursuing green cards. Requests for safe driving classes are coming in. Information cards, including contact information for assistance should authorities engage individuals, are available.
Yet Sister Mary Thomas shares a story of compassion that encompasses not just immigration, but humanity as a whole. An elderly Hispanic gentleman was hospitalized, in poor health, but due to lack of finances was to be discharged by the health care institution. Comunidad Hispana and the sisters called on the gift of collaboration ("a major focus of FSPA engagement," says Sister Anita) to provide assistance with which the man was able to continue his inpatient care for four months. With support from organizations like The Salvation Army and the Society of St. Vincent de Paul, a clinic supplied his medications free of charge. Because he could no longer care for himself and had no choice but to return to Mexico his family there was contacted, his health care regimen coordinated by nursing staff and transportation plans were arranged. "Someone even volunteered to accompany him on his journey." The director of Comunidad Hispana, Will Gomez, "spent hours helping the man prepare for his trip. He is very caring, relatable to these people. There was so much collaboration … amazing," affirms Sister Mary Thomas.
"Will goes beyond what is his to do."
As, says Sister Mary Thomas, does FSPA. "We are very grateful to FSPA. They are so understanding … on the same page with us … support what we are doing."
And FSPA is with the Sisters of the Holy Cross, Comunidad Hispana and the Hispanic immigrants in northern Wisconsin, doing what is theirs to do.