From Global Partners to Hamilton
From Global Partners to Hamilton: collaborating, advocating and caring for kids
Child advocacy: it's a ministry of social justice that permeates the core of the Franciscan Sisters of Perpetual Adoration. Whether efforts are engaged for education, health care, immigration or many other injustices, by mission, collaboration and inspiration to others, FSPA's outreach to children in need reverberates around the world.
Such ministry also resonates at
Hamilton Early Learning Center
in La Crosse, Wisconsin. Hamilton's preschool to fifth grade students live within the most underserved population in the school district of La Crosse, and FSPA has been in the classrooms for these children with food, warm winter wear, teaching assistance and other means of support for many years. Now, a program known as
Global Partners
— "inspiring volunteerism throughout Gundersen Health System and local communities" — is sounding for the students at Hamilton too.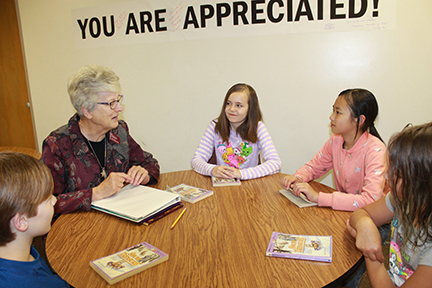 "Perspectives" reached out to the program's director and, at Hamilton, the principal and a second-grade teacher whose students have been embraced by Global Partners. This is why they collaborate and advocate and care for Hamilton's kids.
Liz Arnold, Global Partners director, Gundersen Health System
Last fall, Global Partners (a Gundersen program missioned to empower global communities to improve health and quality of life inspired by volunteerism) was looking for an opportunity to expand our program in the La Crosse area when the Hamilton Collaboration (the school and other area organizations including FSPA) invited us to join discussions. Hamilton Principal Steve Michaels presented the idea of engaging volunteers as mentors to connect with kids, helping them transition into their school day, and Lucy Ann Meyer, FSPA, raised the idea of Gundersen departments adopting classrooms to develop relationships with the teachers and provide ongoing resources to support classroom learning. We launched both programs last winter.
Through individual discussion of current, practical needs as well as creating a wish list of classroom resources or experiences desired by teachers, Gundersen departments make a commitment to provide specific financial, material and human resources throughout the year. Departments have raised money (through events like bake sales) and donated in-kind gifts (like chairs and books) for the kids.
The employee response has been inspiring. It's often not until you develop meaningful relationships that eyes can be opened.
Steve Michaels, Hamilton Early Learning Center Principal
As we look at everything we need to do for our students at Hamilton, we know we can't do it alone. We have to have collaboration, and the community is really coming together.
Through Global Partners, mentoring and adopt-a-classroom volunteers are providing everything from healthy classroom snacks to very powerful intervention for students who are struggling.
The sisters have really been wonderful about seeing the needs of the project, and I give much credit to Sister Lucy Ann for getting our classroom adoption program going. One of the strengths of our partnership has been FSPA's understanding of the importance of relationship and the value of personal connection. I never thought support by an organization would be so critical to the function of our school. I don't know what to say but 'thank you' to FSPA.
Katherine Erickson, Hamilton second grade teacher
Global Partners has been such a great program for us. It's given us mentors from our community who help us greet and start students off to a great day, spend breakfast and the transition into the classroom with the kids and help them settle in and focus on work to be done. They often find a few minutes to explore the child's interests through books and conversations.
We have been incredibly overwhelmed with the generosity of FSPA and Global Partners and, particularly, Gundersen Eye Institute. The department raised funds for a second grade field trip to the Mississippi River and cruise on the La Crosse Queen. It tied into our History of La Crosse curriculum but also provided an activity that many of our students have never experienced, showed them the beauty of our area and gave them an opportunity to be proud of where they live.
And I love how working together as a community shows our students that they are part of a bigger community than just our school … that they are important to everyone.