Bowman house will become 'safe haven'
Reprinted with permission.
By Fabvienen Taylor, Mississippi Catholic, May 4, 2007
CANTON — In March, Doris O'Leary, 73, returned to live in at 136 Hill St., the house where she was given safe haven over 50 years ago.
Doris O'Leary purchased Sister Thea Bowman's house at 136 Hill St. in Canton and plans to restore it as a "safe haven of education and inspiration."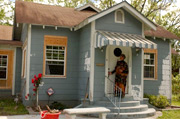 "I was the 14th of 16 children when our house burned and Dr. T. R. Bowman, a pediatrician, and his wife, Mary Esther, invited me to live with them," said O'Leary, who was a Jones.
O'Leary knew their daughter, Bertha (Thea). O'Leary stayed a year. "It was a beautiful house, with a music room with a piano and a sun room with beautiful flowers. They took care of me and Thea and I became close friends," she said. "Our bond started there."
Doris O'Leary describes Sister Thea Bowman's old bedroom, which contained shelves of books.
The next year O'Leary entered Holy Child Jesus School where Thea Bowman also attended.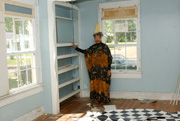 Thea Bowman left at 15 to enter the convent of the Franciscan Sisters of Perpetual Adoration, who staffed the school. O'Leary was a member of the first class to graduate Holy Child Jesus High School in 1954.
She married and moved away, worked in the field of nursing and lived in California for many years. She had three sons. Later her marriage ended in an annulment.
But over the years she kept in touch with her friend Thea and the Bowmans. "Mrs. Bowman, who as a schoolteacher was such an inspiration to me," said O'Leary. "She became 'momma' to me, she was my mentor."
In California, O'Leary opened a safe haven for children who needed academic help and spiritual inspiration. She called it The Upper Room.
She recruited volunteers and the children, at no charge, received tutoring, participated in arts and crafts, had Bible study, and went on field trips.
O'Leary said the former sun room has been boarded up. She has plans for the room, which served as a music room,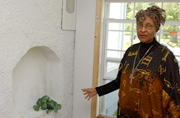 to become a chapel. (Photos by Fabvienen Taylor)
O'Leary wants the same thing to happen at her new home in Canton, which she purchased for $65,000. She estimates renovations will probably cost double that.
The house will be called Sister Thea Bowman's Upper Room and will be a safe haven for children in the community, said O'Leary. "It will be a place of education and inspiration."
O'Leary will return to California for her belongings but needs a chest of drawer for her clothes and some other items for the house.
"I'm just camping out right now," said O'Leary. Persons interested in helping with the restoration, electricians, plumbers, anyone interested in helping preserve Sister Thea's Bowman's legacy can call O'Leary at 601-859-4491.