Adoration ministry: global requests for prayers that change our hearts
By Sarah Hennessey, Franciscan Sister of Perpetual Adoration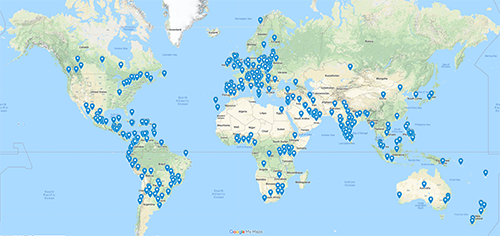 Every hour in the St. Rose Convent Adoration Chapel we pray, "May we receive them with love and support them in prayer as we work together for the reign of God." While the prayer is about vocations, the words also ring true when we think of daily prayer requests. Our hearts are changed by praying. These requests that come from every corner of the globe are gifts, changing who we are by opening us more widely to needs of the world.

Last year we received about 30,000 prayer requests. That's almost 600 prayers a week! While many requests come from our own sisters, prayer partners, affiliates, friends and families, others are from strangers in places such as Beirut or Fortaleza, Brazil (each blue pin on the map above represents a request). Recent requests poured in from all over Italy and Brazil after internet articles about our prayer ministry spread.

Right now we are praying that the babies of three families expected to be born in a few months are healthy. We pray for those living with cancer and those recovering from surgery, for those who have lost their jobs and those who are in the dying process.

Recently, we prayed for a young father who was applying for jobs. Each time he had an interview, we prayed. His wife shared how his young son would say every day, "I hope Dad finds a job soon." An offer for his dream job was made. We prayed for that. Finally, we received word that he had accepted a job working with pacemaker patients. His wife wrote, "I don't have words to tell you how much your kindness, prayers and support have meant to me. I thank God every day for the work you do and the hope you give."
We prayed for a family in Nigeria throughout the entire pregnancy of their fourth child. After the birth, we received pictures of the newborn in his mother's arms and the older children dancing for joy. The grateful father, Charles, later wrote these words in thanks: "I don't have gold and diamond to repay your love showered on me and nothing can equal it."

Sometimes we receive the news faster than it can be published. When an Amber Alert was issued in Wisconsin we heard from a friend of the family to pray for the child. Then, six hours later, we heard the child had been safely found! When some athletes training for the Olympics died in an accident in Europe, a mother of one of the young men sent us a prayer request. When flooding caused tragedy in Sri Lanka, we received pictures of those receiving aid. Recently, we have been praying particularly for elections in Brazil.

Every day we receive requests and every day we pray. Receiving each prayer with love, our hearts are changed and our world becomes that much smaller.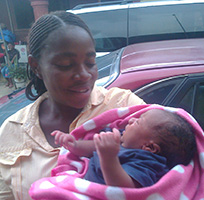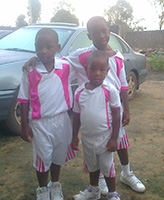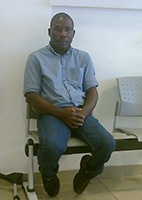 "You have selflessly loved me and my poor family. Your prayers and intercessions for me and for my family are worth more than any material possession. I am very grateful."
- Charles Opara, Nigeria (pictured above with his wife and children)
More about perpetual adoration and a live map showing where prayers come from can be viewed here.