A Revolution of Goodness "shoulder to shoulder" declaration takes shape
By Vince Hatt, affiliate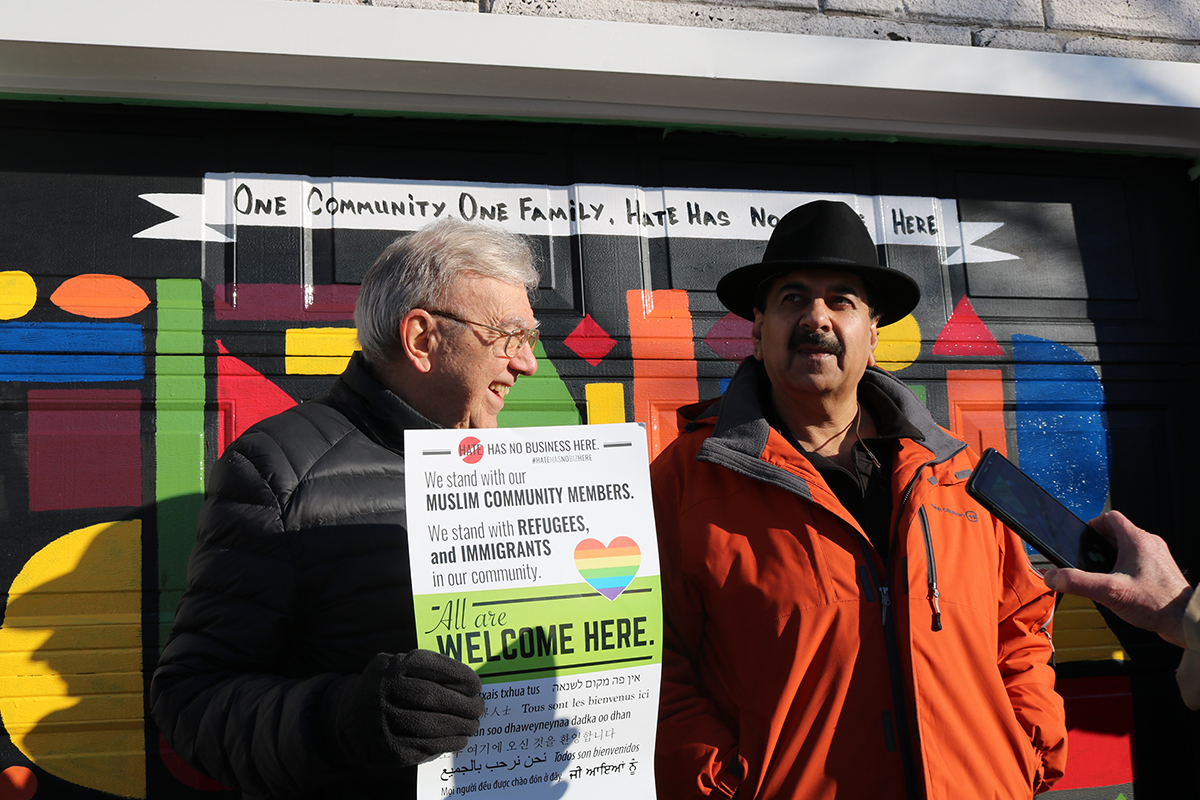 Affiliate Vince Hatt and Mike Ahmad, owner of Bullet Cab, rally together for one community, one family and send a message that hate has no business in La Crosse
Labor Day weekend in 2016 was different. Since we were married on Labor Day, my wife and I always did something special. But not in 2016. With her blessing, I spent the weekend with 15,000 Muslims and a few Christian friends. I attended the Islamic Society of North America Convention in Chicago.
It was an eye-opening experience. The group was extremely patriotic. Each day began with the presentation of the American flag and the Pledge of Allegiance.
Women were in leadership roles. A female dentist from Chicago, who was a board member, was the first to greet us. At both large conferences and breakout sessions alike, I found 47 percent of the speakers were women.
I attended several sessions on justice and peace issues. The content was remarkably similar to sessions that I have attended at Catholic conventions. The empathy of one female speaker astounded me. She said, "We must not make fun of angry Trump supporters. We must listen to their pain and understand it."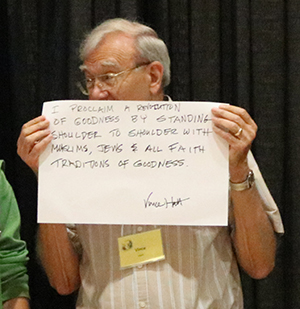 Fast forward to our assembly, A Revolution of Goodness. Because of my experience at the Muslim convention, it was easy for me to say, "I proclaim A Revolution of Goodness by standing shoulder to shoulder with Muslims, Jews and all faith traditions of goodness."
At that time, I was already coordinator of the La Crosse Interfaith Shoulder to Shoulder Network. Nineteen people responded during our assembly to join our work. I told those who lived in other areas that I was willing to help them form a similar group in their regions. I later contacted all 19 by email and invited them to receive our minutes and attend our events.
Sister Laura Nettles and affiliate Margaret Bluske also have leadership roles in La Crosse Interfaith Shoulder to Shoulder Network. Margaret led the committee to get Islam-friendly books in the La Crosse School District libraries. She developed a list of possible books and enlisted the help of a granddaughter of one of our Muslim members to pick out the best ones. We then purchased the books through a grant, and they are now in school libraries. At the end of the school year, we will evaluate their use and refine our process. We hope to develop a model other school districts can use, as well.
Sister Laura, as a faculty member at Viterbo University, was instrumental in providing a venue for our guest speaker, Lecia Brooks from the Southern Poverty Law Center. Her presentation, "When Hate Is Close to Home," was held at Viterbo on October 17, last year. About 350 people attended, including many sisters and affiliates.
In November we hosted a vigil in response to the deadly attack on the synagogue in Pittsburgh. In February we hosted a rally at Bullet Cab company to show support of owner Mike Ahmad after vandals painted a racial slur on his garage door (pictured above).
One of the provocative movements from the 2018 FSPA Mission Assembly is "We celebrate authentically unity in diversity by challenging ourselves to unveil white privilege." It is also the 800th anniversary of the meeting between St. Francis and the sultan. Creatively exploring these realities is on our agenda for the coming weeks.
If you would like more information about our efforts related to A Revolution of Goodness, contact me at vjhatt@charter.net.