A Revolution of Goodness has begun
FSPA Mission Assembly 2018 empowered more than 300 revolutionaries to kindness
They gathered, gloriously, around goodness. They weren't classified as sisters, affiliates and guests but as equal discerners of goodness. They weren't segregated as individual observers but as communal ministers of goodness. They all came together as "a Franciscan family" said Sister Karen Lueck as she welcomed all to FSPA Mission Assembly 2018 — A Revolution of Goodness — Friday, June 1 to Sunday, June 3, in La Crosse, Wisconsin.

Franciscan Sister of Perpetual Adoration Kristin Peters, Little Sister of St. Francis Sarah Nakyesa and honored guest Reyna Mendez proclaim A Revolution of Goodness "by supporting unity in diversity."

Goodness began as sisters and affiliates gathered around tables at La Crosse Center Friday evening. The "Winds of Change," performed by musicians Sister Laura Nettles and affiliate Emily Dykman and vocalist affiliate Krista Clements Orlan (all who inspired goodness throughout assembly with their musical reflections), welcomed them to the revolution. "Guide us as one family and one community," said affiliate Rosalie Hooper Thomas, co-chair of the assembly committee (not just a group of planners but ministers charged with emboldening goodness throughout the weekend and into the future). Kindness began to billow to the sky-high rafters of the convention center.

Goodness continued on Saturday morning as Sister Karen welcomed more than 300 sisters, affiliates, their honored guests — those who were interviewed by sisters and invited for their sincere call to service — and members of St. Rose Convent, Villa St. Joseph and sponsored ministry staff as "equal. We are all brothers and sisters. As Franciscans … we see things differently. Where others see separation, brokenness … we see goodness." She referenced a new model for discerning FSPA mission — Appreciative Inquiry. Instead of rehashing the bad, the format is a vehicle fueled to drive direct action to the better.

"What we focus on becomes our reality."

To help discern declarations of goodness Sue Weber, a consultant and project director for Center for Congregations (missioned to "help congregations find and use resources") engaged the crowd. "We didn't know who would come to the party but it had to be all of you … the leaders." Sue further explained appreciative inquiry as the means to collaborate for goodness that day. "I've seen energy go out of a room full of talk about problems … no energy left to deal with them … too much to overcome." That's why, she said, FSPA intentionally extended an invitation to each guest present: to "engage people like you to have conversations that matter." They were charged, collectively, with addressing negative unknowingness and "reframe it with positive questions."

Sue then called the Franciscan family seated at large, round tables to share with each other knowledge and ideas (a structured conversation process known as World Café) surrounding three questions: what is human goodness? What do we collectively care deeply about as we engage in this conversation? What is all of this saying to us, and why does this matter? After 20 minutes of each "cross-pollinated" discussion, family members picked up their kindness and moved individually as "travelers" to different tables, spreading it rapidly and effectively throughout the house. "Peace, Salaam, Shalom" was sung as travelers prepared to take a break from the journey for food and fellowship.

Goodness — not just in theory but in action — built up quickly, efficiently and emphatically that afternoon. The family gathered to watch the short documentary film "Weaving the Bridge at Q'eswachaka" about Peruvian people who cut loose and re-weave by hand a grass suspension bridge every year, integrating two communities, cultures and ideologies.

Sue then called the travelers to discern new questions: what does it take to bridge the qualities of our best selves with others? What calling is stirring within you?

Such powerful images and discussions and intentions brought discerners — members of the Franciscan family — to their feet. The revolutionaries came forth with declarations of goodness. Many crowded around the stage with vows of kindness to humanity. People picked up their chairs and moved to make room for more and more proclamations of goodness.

Then, one by one, each member of the revolutionary, Franciscan family utilized rudimentary implements — yarn and paper and pens and affirmations of every color in the rainbow — with which to close the chasm between social injustices and compassionate community. They wrote their own declarations and tied them to a makeshift suspension bridge — two ladders and rope spanning the space between them. Not one piece of yarn more could fit along the bridge once all revolutionaries added their declarations of kindness.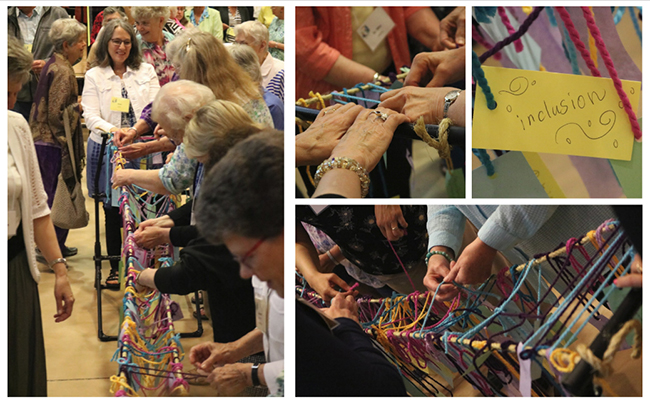 Goodness — a revolution of goodness — had begun.

That rising goodness traveled to a new space, Mayo Clinic Health System-Franciscan Healthcare's Marycrest Auditorium, with sisters and affiliates Sunday morning. Again they traveled to circles although this time, groups came together around the specific proclamations of goodness — 27 of them — declared on Saturday. They included "I proclaim A Revolution of Goodness … by giving others the space to speak rather than deciding what they need from our place of privilege … by broadening and deepening adoration … by empowering others to identify their unique goodness to be shared with the world." To hear more about the action proposed by those making declarations, travelers had the opportunity to visit five circles of their choosing that morning.

Such powerful goodness could no longer be contained in the room. One-by-one, sisters and affiliates took more paper and declared the revolution of goodness burning the brightest, the strongest, in their hearts, placing them in a basket to be placed on the altar and processing to Mass.

Revolution — the kind that fuels collaboration and justice for the good of all — was on the move.