News Archives
In the Sunday, Jan. 21. 2018, edition of the "La Crosse Tribune," reporter Mike Tighe shares Sister Malinda's story behind the writing of her new book "Mary of the Angels Chapel: God's Answer to a Bold Promise."
The book "outlines the history, artwork and architectural elements of the chapel."
Read "La Crosse Sister Malinda Gerke chronicles history of Mary of the Angels Chapel in new book"
View the La Crosse Tribune's photo gallery
Order your own copy
Tour Mary of the Angels Chapel

Environmental Refugees and Human Trafficking
by Jeanne Christensen, RSM, board member U.S. Catholics Against Human Trafficking
Following recent climate disasters, Hurricanes Harvey and Irma and the earthquake in Mexico, members of the U.S. Catholic Sisters Against Human Trafficking believed it would be helpful to share a module entitled "Human Trafficking and Environmental Refugees".
A brief excerpt from the module states: "In June 2014, the number of refugees worldwide exceeded 50 million children, women and men. Half of these refugees are children, many traveling alone or in groups. Millions of these refugees are people displaced because of environmental disasters. Moreover, the Intergovernmental Panel on Climate Change notes that in the coming years millions of people will be forced to relocate due to effects of climate change, including shoreline erosion, coastal flooding or disruption of normal farming practices.Today analysts predict that this crisis in the making will affect 150-200 million men, women and children by 2050, or roughly one in every 45 persons on earth…
Women and children are especially vulnerable during any forced displacement, and they are at risk for gender-based violence and human trafficking. Many children are separated from their families during an environmental disaster. According to the UNHCR, children alone represent more than half of the people of concern. These children, unaccompanied by any adult or caregiver, are targets for traffickers. Two months after Typhoon Haiyan in the Philippines, aid agencies warned that up to two million children were at risk of abuse or trafficking.
Read more Environmental Refugees and Human Trafficking

Vision Vocation Network just released its latest Vocation Guide (and here's the Vision Digital Vocation Guide). Inside, you'll meet Franciscan Sister of Perpetual Adoration Julia Walsh who reveals "how the age-old vows of poverty, chastity and obedience give shape and meaning to her life."
Here's a snippet.
"I was just out of high school when I visited a convent for the first time. I buzzed with excitement, aware I might be entering into a world that could define me. I had felt the pull toward a life dedicated wholly to God and wondered what shape that would take. At the convent, I heard women three times my age describe lives centered on God and community, and I observed their joy, dedication, and strength.
I also was introduced to the religious vows. Women and men religious (sisters, nuns, brothers, monks, and some priests) have elected to let these vows be the core of their lifestyle, the pathway to holiness that they pursue.
For most, the religious vows are public vows of chastity, poverty, and obedience. These vows are what make them into consecrated women and men—people set aside for special purposes for God. Whether they are living in a monastery or among the poor, these vows direct how each religious lives the gospel and serves God.
The vows define religious and make up the heart of a unique lifestyle. This lifestyle is meant to be prophetic: The vows announce the reign of God, the manifestation of Christ's peace and justice. The biblical prophets were centered on announcing God's ways to the world; the vows act in the same way. Compared to biblical prophets, though, religious do not necessarily need to announce God's ways with words. Rather, they proclaim by the very way they live their lives.
A decade after that first visit to the convent, I stood in front of an altar with Franciscan sisters beside me. I professed vows for the first time and joined a lineage of holy men and women linked back to the early church. My community, family, and friends were with me, witnessing. I gave myself to God in this public manner because my commitment is for others. The words of dedication became my life map.'
Read Vision's What are religious vows?
Meet Sister Julia (and more FSPA)
Thinking about religious life (becoming a Catholic Sister)?

Sister Kristin professed final vows with FSPA on June 3, 2017. Leading up to her day, she wrote this piece.
by Sister Kristin Peters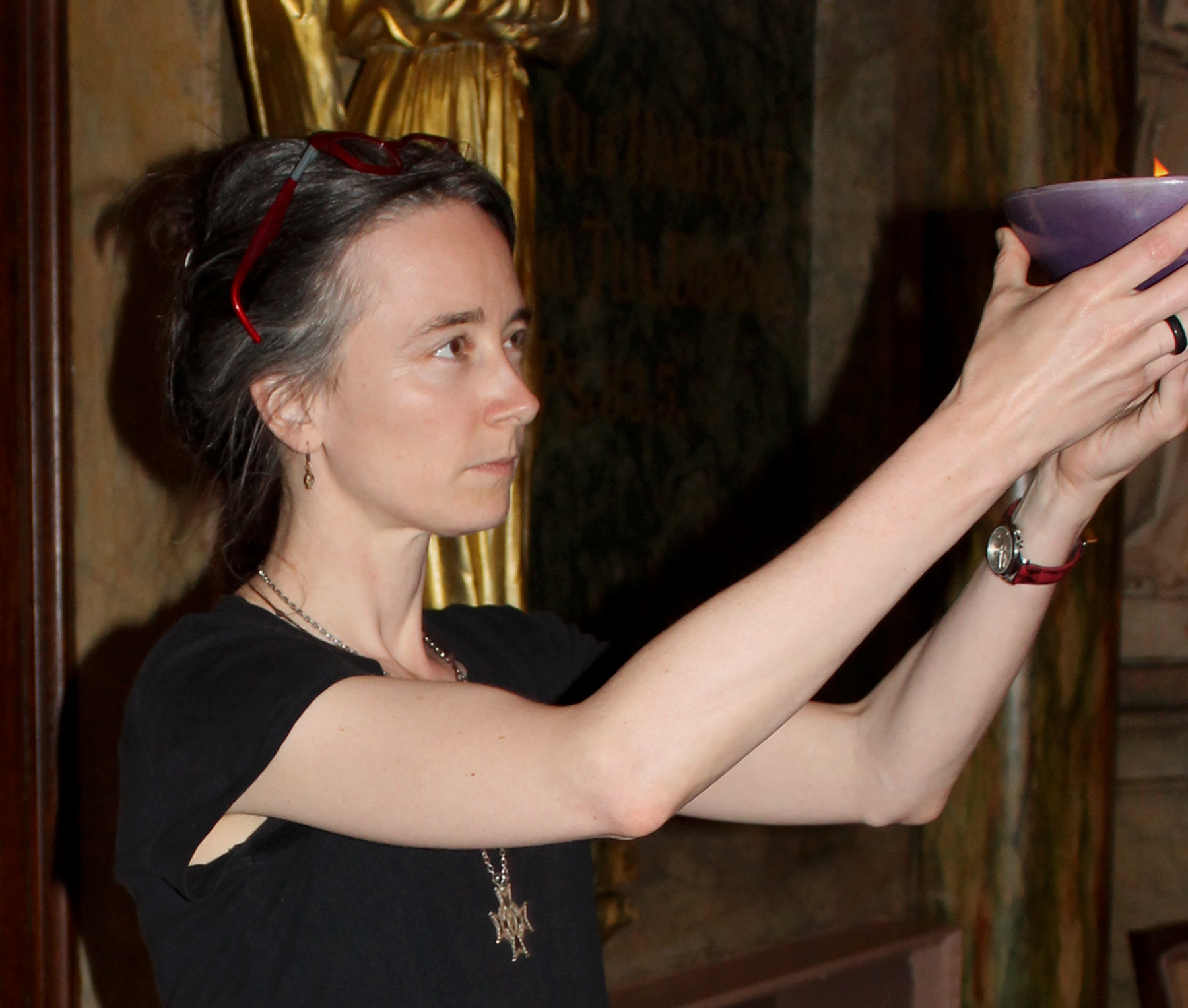 Thank you for your prayers and support over these last ten years. As I prepare to make perpetual vows with Franciscan Sisters of Perpetual Adoration, I reflect upon my life as a religious. My day to day journey is touched by darkness and light; there are quiet revelations of God in the midst of daily life. There is struggle, and joy and pain.
In the midst of struggle this morning, my sister and friend echoed an often quoted saying of our present pope, Francis. She said, "The shepherd smells very much like his sheep." My friend was commenting compassionately on my experience of feeling lost and distracted. She went on "God loves you right where you are and is with you in it." The words rang true. I realized this truth in myself. God was with me and loved me in that moment. I am aware that while I was struggling I was also desiring, seeking and journeying to know and love God.
As a seven year old, I realized God as blessing and love. I wanted to go to church every day in response to a moment of deep love and connection with God. In college I read philosophers and spiritual writers who speculated about their relationship with God and the place of human beings in the universe. I fell in love, "head over heels," with a God I could not see but who burned in my heart anew. In response to love and through searching for belonging, over the course of 11 years I explored numerous religious communities. Each reflected love uniquely and had a particular beauty. Sisters of the Visitation, Trappistine Nuns and a few different Franciscan groups were among the communities I explored. I observed that God was reflected in each of their lives. I fell into the rhythm of their prayer and work and I paid attention to my own heart.
I wondered how God was calling me.
Read Sister Kristin's full reflection printed in the Saint Mary Parish bulletin, May 21, 2017 (page 2)