National Catholic Sisters Week
An annual celebration of Women Religious - March 8-14
#PrayItForward during National Catholic Sisters Week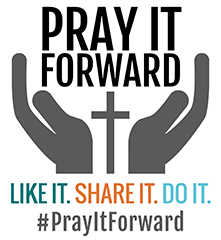 To shine a spotlight on the profound impact of Catholic sisters in our communities and around the world, and in conjunction with National Women's History Month, National Catholic Sisters Week is celebrated annually in March.
Catholic Sisters of the Upper Mississippi River Valley, including FSPA, celebrated NCSW with a social justice campaign called #PrayItForward. Funded by a NCSW grant, the campaign uses social media to create awareness of Catholic sisters and their ministries of prayer and education.
As part of the movement, six short videos were created featuring Catholic sisters holding signs that illustrate facts around the topics of forgiveness, human trafficking, peace and nonviolence, care of Earth, immigration, and love and compassion. The videos ask viewers to join sisters in raising awareness of and praying for resolution to the issues.
Day 7: Closing Prayer, #PrayItForward
Day 6: Love and Compassion
Day 5: Forgiveness
Day 4: Peace/Non-Violence
Day 3: Immigration

Day 2: Human Trafficking

Day 1: Earth, our Common Home

#PrayItForward Trailer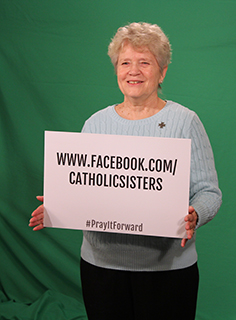 Like It – Share It- Do It
Join us on social media.
Facebook/CatholicSisters
Twitter @catholicsrs
We will also share on this page and on FSPA's social media channels:
Facebook/franciscansisters
Twitter @FSPAtweets
Instagram thefranciscansisters
About
The sisters featured in the videos represent the Upper Mississippi River Valley communities that sponsor the videos. We are sent, as Jesus was sent, to do good works and meet the needs of the times. We are the Sisters of St. Francis-Clinton, Congregation of the Humility of Mary, Carmelite Nuns of Eldridge, Benedictine Sisters of St. Mary Monastery, Rock Island, Sisters of the Presentation, Sinsinawa Dominicans, Sisters of Charity of the Blessed Virgin Mary, Franciscan Sisters of Perpetual Adoration, Sisters of Mercy-West Midwest Community, Sisters of St. Francis-Dubuque, Sisters of the Visitation, and Our Lady of the Mississippi Abbey. Together we serve a global population.
National Catholic Sisters Week is an annual celebration of the nation's Catholic women religious that uses events and stories to share the lives of Catholic sisters. National Catholic Sisters Week is supported by a $3.3 million grant from the Conrad H. Hilton Foundation and is based in St. Catherine University in St. Paul MN. It is held in conjunction with National Women's History Month.