National Catholic Sisters Week
An annual celebration of Women Religious - March 8-14
Area Catholic Sisters spread peace-making message
Three poignant videos began circulating on social media and in movie theaters on March 8, thanks to area Catholic Sisters. Created in collaboration with the Azubuike African American Council on the Arts, the videos feature vignettes of discriminatory and potentially violent situations sparked by ignorance and fear. The situations are resolved by listening.
Listen Up! Print Resources
Download and print the 11x17 Listen Up! poster
Download and print the Listen Up! bookmark
The Listen Up campaign was created for National Catholic Sisters Week, March 8-14, 2019. Sponsored by Catholic Sisters of the Upper Mississippi River Valley, which includes FSPA.
Here's what Catholic Sisters of the Upper Mississippi Valley have to say about "Listen Up!":
"We are delighted to share a message of listening with the wider community," Prioress Sandra Brunenn, Rock Island Benedictines, says. "Listen is the first word in St. Benedict's Holy Rule. We are called to put aside our own prejudices to listen deeply to one another. Through deep listening we can create peaceful community."
"We found a voice to help deliver the message of unity," says Sister Johanna Rickl, Vice President of the Congregation of the Humility of Mary. "Our congregations' shared mission is to reconcile racial divides and to spark a much larger conversation about race relations in our world today."
Sister Janice Cebula, President of the Sisters of St. Francis, Clinton, says, "Too often we jump to conclusions about people we perceive as being different from us. We hope the videos will encourage viewers to stop to think about their own prejudices, value diversity and step out of their comfort zones."
Funding for Listen Up comes from the following religious communities: Congregation of the Humility of Mary, Davenport, Benedictine Sisters of St. Mary Monastery, Rock Island, Sisters of St. Francis, Clinton, Sisters of St. Francis, Dubuque, Sisters of the Blessed Virgin Mary, Dubuque, Sisters of the Presentation, Dubuque, Trappistine Sisters of Our Lady of the Mississippi Abbey, Sinsinawa Dominican Sisters, Sinsinawa, Wisconsin, Franciscan Sisters of Perpetual Adoration, La Crosse, Wisconsin

Catch up with our #PrayItForward social justice campaign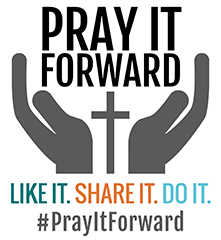 Click image to watch #PrayItForward